Point Defiance Zoo Coupons – $2.50 Off with Mobile or Online Discount
This post may contain affiliate links and I may be compensated for this post. Please read our disclosure policy here.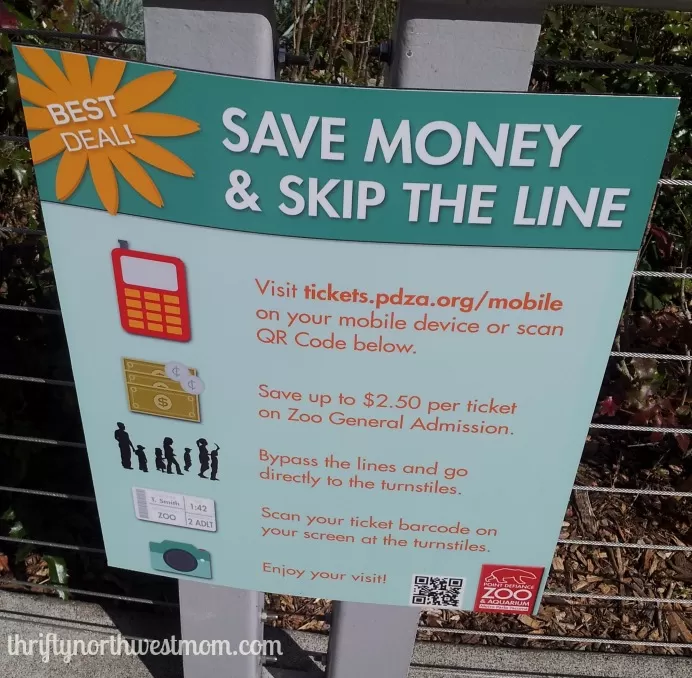 Point Defiance Zoo Coupons
If you're headed to the Point Defiance Zoo and Aquarium, you'll want to make sure to buy your tickets online first and you can save up to $2.50 per ticket. You can do this by buying online first and printing off the tickets or using your mobile device to buy and then showing the bar code to the ticket folks at the zoo. If you are a Pierce County resident, you can save $2 off your ticket, but buying ahead of time is a better deal to get the $2.50 off per ticket.
Here's how it works::
Head to the online ticket portal for the Point Defiance Zoo
Choose how many tickets you need for each kind of ticket (Adult, Senior, Youth, etc)
Add to your cart (There will be a $1 surcharge to purchase tickets online)
Purchase your tickets and then you will be sent a PDF via email to print off your tickets and bring with you to the zoo.
If you forget to do this until you get to the zoo, you can also buy your tickets online using your mobile device and then pull up the tickets from your email & scan them at the turnstile when you enter the zoo.
You can find a FAQ document with answers to any questions you may have about how to use the online tickets at the Point Defiance Zoo.
For more ways to save at the zoo, you can bring in your own drinks and food and have a nice picnic lunch or enjoy snacks without paying the higher rates for zoo food & drinks. The nice thing about the Point Defiance Zoo & Aquarium, too, is that you won't have to pay for parking at all either, so it's a fun place to head for a family adventure!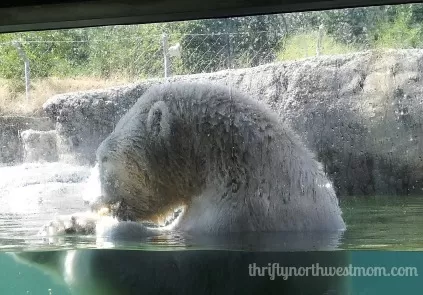 Make sure to check out the times for special events at the zoo when you go, too. Throughout  the day, they will have special enrichment times or feeding times for the animals. We got to watch the Polar Bear Feeding & Enrichment time and it was so cool to see these giant creatures swimming gracefully through the water as they would try to catch the fish that were being thrown to them. The kids were all enthralled with this as it was different than just seeing them lounge around.  My girls also love the Wild Wonders Outdoor Live Show – it's a fun show for the kids to watch & learn about new animals as they interact during the show. The carousel is always a hit, too, and just $1/ride for the kids.
What is your favorite part of the Point Defiance Zoo & Aquarium?