Pinecone Research – Earn $3 a Survey!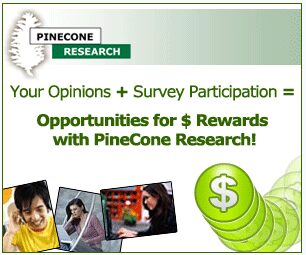 Pinecone Research is once again accepting applicants! This is a very reputable survey company that pays $3 cash per survey that you fill out. Right now, they have just opened up applications for new panelists.  You will need to go to Pinecone Research here to see if you qualify.
This is such a quality survey company that it can be difficult to get in as they only open for new applicants at specific times, so you want to hurry to sign up if this is something you're interested in as it's usually not open for too long for new applicants to apply. They are typically looking for specific demographics, so you may not qualify, but I figure it's always worth a shot to try. I still have yet to be able to get in but I'll check each time it comes up!
Not only will you have a chance to fill out surveys & give your opinions about products in the marketplace, but you may also have the opportunity to do product reviews. Let us know if you are a member of Pinecone Research & what you think about it!
Note – Per comments on the Thrifty NW Mom Facebook page, it sounds like they are primarily looking for people 18-24 or of Hispanic origin right now.