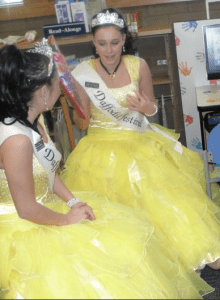 This Saturday, a number of Pierce County libraries will be offering the very popular event, Read with a Princess. It's the chance for your kids to get up close & get to know this year's Daffodil Princesses! The times will be at 11am or 1pm at 10 different libraries across Pierce County. It's fun, too, because I think they try to match the princesses with the area they are from.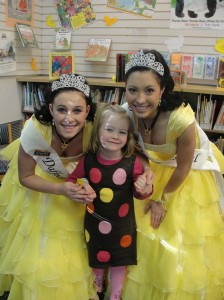 We went to this event last year & my girls absolutely loved it. The princesses spent close to an hour reading & chatting with our girls and they were so great about getting down on the floor, in their big, poufy dresses & interacting with them. My girls have been asking about when they'll have a chance to meet the princesses again but I'm sad that we'll have to miss this event as they were both just diagnosed with RSV. :( I hope many of you can check out this event, though!
Here's the schedule of their visits:
11am:
Gig Harbor
Bonney Lake
Tillicum
University Place
Parkland/Spanaway
Summit
Sumner
Graham
Fife
Downtown Puyallup Library
1pm:
Key Center
Buckley
Orting
Dupont
Eatonville
Steilacoom
Lakewood
South Hill
Edgewood/Milton
If you can't make this event, you might want to check out the Princess Tea coming up Saturday March 10th. This event is not free, though – it's $20/person.