Phantom of the Opera Tickets for Seattle -Tickets Starting at $53.50 (reg $69)
This post may contain affiliate links and I may be compensated for this post. Please read our disclosure policy here.
Find Phantom of the Opera tickets for Seattle at a discount. The show is coming this August 2018 & discount tickets are as low as $53.50 (reg $69).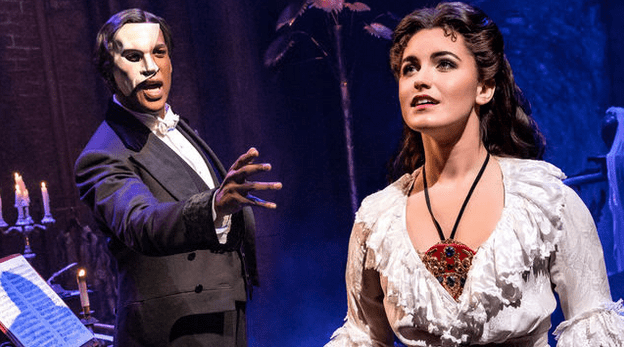 Phantom of the Opera Tickets for Seattle  – Discount Tickets
Goldstar.com is offering discount tickets for the Phantom of the Opera Broadway show which is coming to the Paramount Theater in Seattle in August 2018. Tickets range from $53.50 (reg $69) – $77.50 (reg $99).   Phantom of the Opera will only be in Seattle for 16 shows, from August 8 – August 19, 2018. If you have never been to see the Phantom of the Opera, this is a fabulous Broadway show! I saw this first when I was in college and it's been a favorite of mine ever since!
The closer we get, Phantom of the Opera could sell out with so few shows, so these may be tickets you want to grab soon so you don't miss out or have to pay much greater prices.
Cameron Mackintosh's exciting new tour of The Phantom of the Opera brings the dramatic doomed love triangle to Seattle's Paramount Theater. Described by critics as "bigger and better than ever before," the latest edition of Andrew Lloyd Webber's musical masterpiece offers bold new staging with original costumes, fresh choreography and exciting special effects (including the legendary chandelier) — plus a soaring score filled with memorable songs like "Masquerade," "The Music of the Night" and "All I Ask of You." Mackintosh is known for producing sensational musical hits like Miss Saigon, Cats, Mary Poppins and Les Misérables (both the live show and the 2012 Oscar-nominated film). But Phantom might just be his best work yet. It's certainly the biggest — with a cast and orchestra of 52. This Phantom is one of the largest musical productions currently on tour and here's your chance to snap up pre-sale tickets.
More Discount Entertainment & Family Fun Options::
Find more discount entertainment tickets from Goldstar!
And don't forget to check out our list of FREE & Frugal Events & Activities around the Northwest each week!