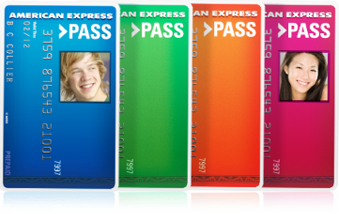 WOW!  This is a great idea!  American Express has created PASS, an American Express Prepaid Card!  It is a convenient, easy and very versatile card that can be purchased by anyone 18 or older.  All you do is sign up for your PASS card (no credit check, no impact on your credit score or anything!) and wait for it to arrive in the mail.  
To start off, you must add $25 and can add up to $2,500.  You can use it everywhere except on cruises, casinos or car rentals.  My parents are very hesitant about purchasing goods online, so this is great for you or anyone else like this.  If your card is lost or stolen, AMEX will replace your funds and it does not link to your actual checking account so there is no question about having your identity stolen or your credit destroyed. Also a great idea to use with teenagers where you want to prepay a certain amount on a card for them, so they don't use any more than you give them. 
There are so many great reasons for getting this card, you need to check it out for yourself!
Details:
No overdraft fees
No fees
No credit card needed (you can load the card up by using cash, credit or debit)
No credit check
Reloadable (keep up to $2,500 on it)
You can have up to 3 PASS cards if you are over 18 years of age
Can use at ATMs
Purchase Protection
Uses:
Online Purchases (doesn't link to your bank account so if you purchase from an insecure site, no worries)
For Teens (teach them financial responsibility by giving them a set amount of money)
For Traveling
Overseas Travel
ATM Withdrawal
In any store AMEX is accepted.