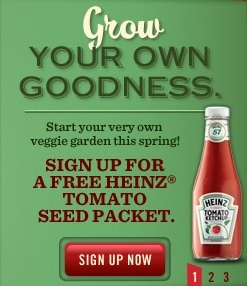 Spring is a-comin' – in just a few weeks! Thank goodness – I'm over the cold weather & ready for some warmer temps & hopefully more sun! My tulips & daffodils are all ready too – they're going to be blooming early this year for sure!
Spring also means it will be time to get back into gardening! Let's hope this is a better year for gardening – last year was such a bad year for our tomatoes (& other crops, too).  But, I'm excited to start fresh this year – so perfect timing as I just found that Red Robin is giving away a packet of FREE Heinz tomato seeds. So, head on over & request your free seeds – they should arrive within 4-5 weeks.  And while you're there, you can let your kiddos have fun coloring the digital coloring page (or do it yourself like I"m having fun doing! :) ).
Thanks Thrifty & Thriving!