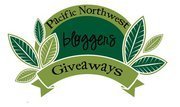 If you're a Thrifty NW Mom Facebook Fan, then you probably saw me mention this last week on Facebook.  I have teamed up with a group of local deal bloggers to create a Pacific Northwest Giveaway page on Facebook.  This will be a central location where you can go to find all sorts of fun giveaways happening on our blogs.  All you need to do is head over and "like" the Pacific Northwest Giveaway page. Then, you'll start receiving updates within your newsfeed about the various giveaways.  Please feel free to "share" this page with your friends & family so you all have more opportunities to win some fabulous giveaways!
In addition, we have a new feature that will be happening every Friday called "Link-Up Fridays".  Each Friday morning, we will post a status update on the page offering other Pacific NW bloggers the chance to link up your giveaways on that post.  If you're a local blogger, this is a great opportunity for you to share about your blog with our 1000 fans (& growing) & have readers come check out your current giveaways, as these updates will show up in the newsfeed for all "likers' of the Pacific NW Giveaway page.
Here are a few specifics to keep in mind when posting your giveaway (you can also find this list under the "Info" tab on the giveaway page):
1) Giveaways are to be posted by Pacific Northwest bloggers only (defined as Washington, Oregon, Idaho).
2) Giveaways are to be current.
3) Bloggers must link directly to their giveaway post, and not the home page or other post of their blog.
4) Bloggers can post one link; either a link to a single giveaway or a link to the Giveaway category on
their blog (if they have more than one giveaway that is current).
5) Giveaways must be family friendly.
We want this page to be a valuable resource for all of you, which is why we've set up a few guidelines to make sure that it is quick & easy for you to find the giveaways that you're interested in entering!
Several Northwest bloggers have already linked up with some fun giveaways, so make sure you head on over & check out  their giveaways now!
On a side note….I'm having fun discovering some new Northwest blogs, too, including a blog called "Northwest Camper".  If you love to camp in the Northwest, you must check out this awesome blog! She posts anything & everything related to camping – camping deals, reviews of NW campgrounds, iPhone apps you can use while camping (my hubby is going to be excited about that one!) & more!
Photo Credit – Thanks to Crystal from Frugal Chic Living for developing our awesome logo! :)