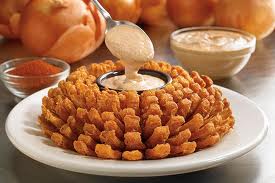 The Outback Steakhouse is once again offering a FREE Bloomin' Onion, with any order, in honor of Ryan Newman finishing in the top 10 this weekend in the Martinsville race! No coupon is necessary, just mention Ryan's Top 10 Finish to get yours free. This offer is valid at participating locations, so we always recommend calling your local Outback Steakhouse to make sure they're participating before making a special trip out for this deal.
Offer is good today only, 4/2. Full details on the Outback Steakhouse Facebook page here.
Have you taken advantage of any of the recent free Bloomin Onion deals? How did they work out for you?