Holiday Penguin Photo Frame Magnet Craft Kit – $5.99 for 12 frames or $.50/ea
Oriental Trading Company is back with their FREE shipping offer today only (12/17) until 9:59pm pst. All you need to do is use the promo code: FSFW38 at checkout to get free shipping on your order. 
This is an excellent time to look at some fun Christmas crafts or any little stocking stuffers for your kids.
Some Ideas – 
Set of 12 Sticker Sheets – $.49
Bingo Games for $.99
Design a Stocking Kits for $1.49 ea shipped!
This set of 21 die cuts are only $1.59 (and free shipping!). I just was reading through a few of my free magazine subscriptions (Martha Stewart Living and Better Homes and Gardens) and these wood pieces are being used to decorate for Christmas in both magazines this year. I found this photo online to give you some inspiration on how you could use these!
Make sure to check out the clearance section, too, as you can always find some awesome deals to use year-round to stock your craft supplies for the year.
If you're a Sunday School teacher, they also have a number of projects that would be perfect for Christmas or other Sunday School projects, and a full section of teaching supplies – I used this site frequently when I was an educator to buy items for craft projects, little trinkets for treasure box prizes & more.
Here are a few fun ideas I found: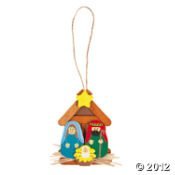 Nativity set of 12 for $2.39
Make a Nativity Scene Stickers – $3 for set of 12 (I love to put these in my girls' stockings)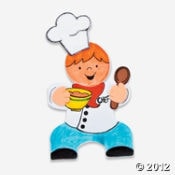 Design Your Own Paper Dolls $1.29 (24 pack)
There are so many more great deals to find. Let us know what you favorites are!