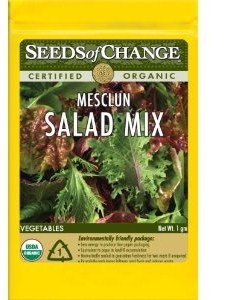 Update: All 100 million seeds have been given away in 2 days! Wow! So, this promotion is no longer available – hope you were able to take advantage of this awesome deal!
Here is a great deal as you get prepared for spring gardening season! Seeds of Change is an online website dedicated to bringing organically grown seeds available to gardeners & farmers. Right now they are giving away 100 million organic seeds to inspire others "to do impactful things in your communities through organic gardening".  For every seed request, they will provide a matching donation of seeds to the American Horticultural Society.
When you sign up for their "Sowing Millions" program, you can request 25 packets of certified organic seeds (approximate value of $75) for just $4.99 shipping/handling.  If you are part of an organization, you can request 100 packets of certified organic seeds (approximate $300 value) for $14.99 shipping/handling. This is the limit per family/organization & you can only request seeds one time. The seeds should arrive within 2-6 weeks.
Your seed packets will be a random assortment of seeds – you will not get to pick the varieties. But, 25 seed packets for $4.99 – that's an incredible deal!! I just ordered some for our family & it was a simple, quick process.  I'm excited to see the  different varieties we will receive from them.
$1 Off Printable Coupon:
While you're at the Seeds of Change website, make sure to print off a coupon for $1 off any Seeds of Change Certified Organic Product.  This would work at any store location that sells these products (I did a quick check & found 2 store locations in Tacoma, near me – Thriftway & Marlene's Market).
Thanks Frugal Living NW!