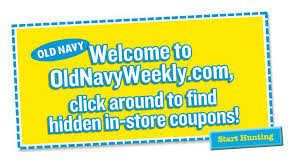 UPDATE at midnight PST:: Old Navy Weekly unfortunately did not update tonight (6/17) so it looks like it will be tomorrow (unless they update thru the night), so keep watching the chat to see what's going on! There are a number of people who are helping to ring the bell if it updates, so make sure to login to the chat and turn your computer volume up, so you can hear if it updates.
It looks like Old Navy Weekly will be updating soon, according to several reports on Twitter (
OldNavy Eva
,
OldNavyAmy
) as well as what they have to say on the
M80 site
. I've also just received the same message in a comment on this blog! Here's what "
Supermodelquin
" has to say::
Old Navy Message::
You have become quite the professional coupon hunter—so we've got a few tricks up our stylish sleeves this week.
We know you've discovered that the expiration dates on the coupons are a giveaway for when the site launches the following week.
But not this time! We're going to keep you on your pretty little toes. So, print out any coupons you've already found and be ready to begin hunting for more fab $75 coupons at any moment this week.
(This is the same message that is on the M80 website)
PRINT YOUR COUPONS ASAP::
So, I would definitely make sure to print off your coupons from this latest coupon hunt–for some reason, it sounds like they may not be printable after the site refreshes (I'm not sure why it wouldn't still work, but to be safe, I'd print them out, if you haven't already).
And it's hard to know if it will be a new coupon hunt or if they will just refresh the current coupon hunt with new coupons!! If they refresh it, you'll want to be watching the "Coupon Count" at the top to see if they've added new $75 and $50 off coupons.
CHAT ROOM::
Join me in the chat room (on the left side of your page- a blue button) if you're interested in hunting for these awesome coupons with all of us!! We will also try to ring a bell as soon as we know that Old Navy Weekly has updated–I have several people who will be helping me with that job so that we can make sure to have it covered!! All you need to do is enter into the chat room and turn up your volume. Even if you can't be on the computer too much–as long as you're in the chat room, you should be able to hear the bell when we ring it to let you know the site has updated!!
If you're planning on being around the computer for a bit tonight and want to help keep an eye on ONW, let me know in the chat room and I can add you on there to help us watch and ring the bell, if needed!! Since I can't be on the computer constantly, it's a huge help to have a group of people who can help alert us when the site has updated! And it's pretty fun to ring the bell if you're the one to spot that it's updated!!!! We all get pretty excited that the coupon hunt is on!!!
TANK TOPS::
-Old Navy's ribbed tank tops will be on sale for $2/tank on Saturday only with a limit of 5 per person!!! This is a great savings as they are normally $8.50-$9.50. These will most likely be in-store only. It might be as crazy as the flipflops sale, so you might want to go beforehand and buy your tank tops and then go in later in the day on Saturday to get a price adjustment to the lower price (you can do this for up to 7 days with Old Navy by showing the receipt). If you can't go in till Saturday, you could go in later Saturday and buy them in a different size (whatever is still left) and then go back later in the week to return them for your correct size.