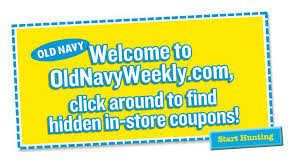 **Update at 10:20pm – It looks like the Old Navy site will be updating soon!! This is around 10:20pm PST. They have removed the coupon counts at the top-just says "check back later". They've also removed all the previous scandals. So, anytime!! :) Just keep an eye on the comments, but I will update on this post when it's changed over!! If you find coupon locations, leave it under the comments for everyone. I will post them all after I find the largest coupons.
Sorry for the late notice everyone–but tonight is once again Old Navy weekly night!!! Ready for some more fun! So far, they haven't updated the site. As you know, we expected it to update early evening (PST) last week, but it didn't update until after 10pm PST last Thurs night. They also then reset the coupons on Fri morning around 9am PST.
So, it's hard to say what time they will update tonight–you'll have to be watching all evening to see when they update so you don't miss it!! I will try to post as soon as I know–and I will disable comment moderation so you can all post under this post as well and it will show up immediately…so keep refreshing the comments when Old Navy refreshes. I found that last week, the easiest way to give the coupon locations the fastest was to first enter it in the comments–instead of updating the blog posts, as details are sketchy at first as we all try to figure out the locations and then within a few minutes of finding the location of the good coupons, they are gone! You have to be super fast!! And you, the readers, were extremely helpful in finding those coupon locations last week, too!!! So, definitely keep your eye on the comments!! :)
Here's the scoop from Supermodelquin (the Old Navy Representative) this week–they left this comment under
last week's Old Navy post
::
This week at OldNavyWeekly.com, we'll have another fabulous coupon to hide, $60 off $100 purchase. We'll also be releasing the coupons at different times like last week, so more of you have the chance at scoring one of these fabulous offers.In other exciting news: we'll be introducing a "retrieve coupon" button that will let you resend a coupon to your inbox if you should lose it!
So, unfortunately no $75/100 coupons, but there will be the $60/100 coupons available…and they will be released at different times during the week.
The other news is the "retrieve coupon" button, here's the other info I found about that::
In order for our new "retrieve coupon" button to track your findings, you'll be asked to enter your email address when you discover your first coupon. Entering your address reserves your coupon while you hunt for a better one. Each email address will be allowed one coupon per week (this will also give more of you a chance at the $$ coupons)—so make sure you do some serious snooping to find the best deal before hitting "Make Coupon." Once you've clicked the button, that fabulous deal is yours for the week!
This sounds like a great idea to me–you can "reserve" your coupon and then if you find a better coupon, you can use that coupon instead (but at least you don't miss out on any of the other coupons while hunting for the "big" ones!
**One last tip
–remember that you can use your "tab" button (above the Caps Lock on your computer) to find the coupon locations right away (at least the stationary coupons). Thanks for that tip,
Leah
!!
Let us know if you've gotten any great coupons with Old Navy weekly!! It's fun to hear what everyone has gotten!