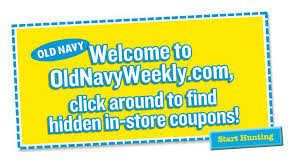 A reader just alerted me to the fact that the
Old Navy Weekly
site has taken this week's coupons down and it says they are currently in the process of updating and will be back later this week (thanks for the tip, Melanie)!! Here's what they have to say in the
M80 Newsroom
from Old Navy::
Just wanted to give all our fab fans a heads up that OldNavyWeekly.com will be having a little maintenance done this week. But not to worry, we'll be back later this week with hot new SuperModelquin gossip and all the fun of coupon hunting!
Also, this week at OldNavyWeekly.com, we wanna know if your heart is as big as your closet—because we're hiding that fab $75 off $100 coupon again and we're wondering if you can bring yourself to gift it to a friend on Facebook instead of keeping it for your stylish self.Remember, you can gift one to a friend and keep a coupon of a different value for yourself, so your generosity is still rewarded!
You won't believe the kind of savings you can find at OldNavyWeekly.com. The amount you can save depends on how good of a coupon hunter you are, and a bit of luck. Head to the site and start clicking around to uncover valuable store coupons. You might just grab the day's big find!
So, the good news is that the $75 off $100 coupon will be back –however, we don't know when exactly they will be updating the site! I'm not going to make any guesses this time as I was wrong about them updating on Sunday, which was what they had told us would happen. It does say that the site will be down for maintenance and will be back for coupon hunting later this week!! I have a "feeling" they will be going back to the Thurs night/Fri morning hunts–since the current coupons expire Thurs June 11th. I'm hoping that this maintenance time will help them to get a better system in place, so that they can stop the people who keep hacking into the system to get multiple high-value coupons to sell on Ebay!