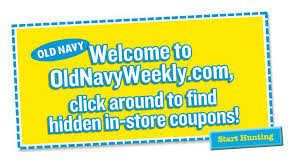 Once again, it's
Old Navy Weekly
time–they will be updating with new coupons either late tonight or sometime tomorrow. Last week, they waited till right around 9pm PST (midnight EST) on Sunday night! So, we'll see if they will update tomorrow night again or surprise us with an earlier time. Currently, their site is down while they work on updating it–so you'll want to check tonight and then again throughout the day tomorrow to see if they've reset the coupons!! Remember, the $75 off $100 coupon is back this week! And they have a new feature, where you can share a coupon (of a different value) with a friend on Facebook (details
here
). If you're not on Facebook, you might want to sign up now, so you could send a coupon to a friend or family member.
In other news, I've started up the "live chat" program again! I took it down for a few days as I tried other various "chat" programs, but I couldn't find anything that worked as well, so I went ahead and upgraded the web chat, so that we can now have 200 people in the chat room at the same time! I know it was very frustrating last week as it only allowed 10 people in the room at one time (which I didn't know when I started the chat program Sunday evening).
The other cool part of this new chat program is that I have the ability to ring a bell, which would sound on your computer–which means that when I find out that the Old Navy Weekly site has updated, I can ring the bell to let you all know. So, if you have your computer somewhere that you would be able to hear it, you could turn up the volume and not have to sit by the computer for hours (as I know some people do). Very cool feature!! The only problem is that I would have to know that Old Navy Weekly updated!! This is where I'll need help–since they are now updating on Sunday, I'm not going to be around as much as I was on Thursday evenings (when they always updated before)–I have church in the mornings and other family activities throughout the day. So, I wanted to see if there are just a few people who are interested in becoming moderators for the chat room. Basically, it just means keeping an eye on things (making sure people are following the rules and keeping things positive) and ringing the bell if Old Navy Weekly updates (if I'm unavailable at the time). So, let me know if you're interested in doing this and maybe be around a fair amount tomorrow or tomorrow evening. You can email me at thriftynwmom (at) hotmail (dot) com.
How to use the "chat" room::
-You'll find the button located on the left hand side of the blog (in the border area)–it's a blue button that says "chat"
-You can either sign in with a user name (and check "automatically log in" so it doesn't log you out every time you switch window tabs) or it will just automatically sign you in as a guest (which has your state and a number as your guest username, e.g., "Washington_39)
-If you want to close the chat or hide it as you look at other posts on Thrifty NW Mom–you can click on the arrow to the top right or it will say "hide" if you're on the sign-in page
-If you want to make the chat room larger–just click on the right side and drag it so the window becomes bigger. This will be a nice feature when the site is updated, so you can see more of the coupon locations as they are posted.
-Feel free to chat among yourselves as we wait for Old Navy Weekly to update–however, as soon as it does update, make sure to stop the chatter and only post coupon locations. The chat room moves very quickly even with just a few people in there (imagine if we have up to 200), so we want to keep it limited to coupon locations or hints when the site has gone live–so everyone has the best chance of finding one of the high-value coupons–they go super quickly!
-The chat room is to be a family-friendly, positive, encouraging place where we can have fun getting to know each other while searching for these coupons. No spam, referral links, or links to anything not family-friendly are allowed as well as no foul language, bad-mouthing, etc.
**Remember to email me if you're interested in becoming a moderator!!
**Also, a reader had mentioned the possibility of trading coupons in the chat room (not just Old Navy coupons, but any manufacturer's coupons)–I didn't have anyone else show any interest in this, but if this is something people are interested in, we can definitely look into doing that at a set time!! Let me know if this is something that interests you, so we can come up with a good time for people to trade coupons.