Old Navy Weekly Giveaway – 1 $50 off $100 Coupon
This post may contain affiliate links and I may be compensated for this post. Please read our disclosure policy here.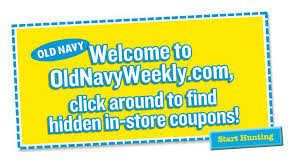 Once again, we're having a giveaway for 1 Old Navy Weekly $50 off $100 Coupon. If you missed the last update on Thurs evening or just haven't had much success in finding a high-value coupon yet, this giveaway is for you. I was only able to snag one coupon this time due to being on my mom's s-l-o-w computer.
Once again, this giveaway is for subscribers only to support the Thrifty NW Mom readers who have been trying to get the high-value coupons.
Here's how to enter::
1) Leave a comment telling me if you're an email or RSS subscriber (that means that you read thru a reader, like Google reader, Yahoo reader, etc). If you're new, you can subscribe for an email subscription (top right sidebar) and RSS subscription HERE
**As always, make sure that I have a way to contact you–either thru your blog or leave an email address. I prefer that you enter thru the blog, but if you are uncomfortable leaving your email address and do not have a blog link, you can email me ONLY at
[email protected]
(I will not accept emails at my other backup email location as I do not check that on a regular basis).
This giveaway will end on Tuesday, August 4th at 9pm PST (12am EST). The winner will be selected by Random.org and will be posted on this blog as well as emailed or contacted on your blog.