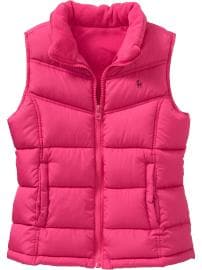 Update: Old Navy has their Frost-Free Vests on sale online as well as in the stores today only. So if you can't make it into the store, head over to Old Navy.com & purchase your $12 vests for the family online. You'll also get 10% cash-back if you shop thru Ebates.com. 
I checked these out last night at Old Navy (& actually bought my vests last night & I'll bring in the receipt to get a price-adjustment today). They do have 5 colors for women in the stores & it looks like only 3 colors online. The other colors at the store were grey & olive green, I think. So just an FYI if you were wanting different colors. You also can't use the $10 off $50 coupon online.
*********************************************
Old Navy is having a One Day Wonder sale tomorrow, Saturday October 8th.  They will feature Frost Free Vests for the whole family for just $12 (regularly $26- $49).  You'll want to check with your individual store on when they open as it can vary by store (typically they may open early for these sales). This is in-store only as far as I know. Thanks Coupon Connections!
Make sure to bring along this printable $10 off $50 coupon from the Old Navy Facebook page.
If you'd rather shop online at Old Navy.com , you can find lots of great deals for their "Rocktoberfest" such as performance fleece starting at $7 for kids & $8 for adults, $7 long-sleeve thermal shirts for kids & baby & $10 thermal shirts for adults, & more. Shipping is free when you spend $50 or more.
Make sure to go thru Ebates for 10% cash-back today!