Old Navy Day – $75 off coupons are back again!!
This post may contain affiliate links and I may be compensated for this post. Please read our disclosure policy here.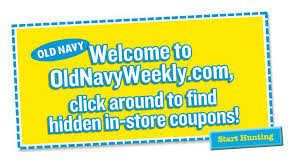 Once again, it's Thursday, which means that Old Navy Weekly will most likely be updating again sometime today/tonight!! Here's the latest news from the M80 newsroom, where Old Navy posts their weekly updates for Old Navy Weekly::
I
t's Thursday and that means Old Navy will soon have a new Item of the Week: The Women's Mandarin-Collar Henley for $9 plus
OldNavyWeekly.com
is going to be hiding fabulous new coupons. And lucky you, we're hiding the $75 off $100 coupons, yet again! You can also follow the
SuperModelquins on Twitter
for even more Item of the Week info. Happy hunting!"
So, the good news is the $75/$100 coupon is back again! Yay! For those of you who signed up for text updates (on the Old Navy Weekly site last week), you should have gotten a text this afternoon and here's what it had to say:
"Hi! Starting tomorrow, the Item of the Week will be Women's Mandarin-Collar Henley's for $9. They're so cute! PS: check out the video on Oldnavyweekly.com :)
So, there's the new item of the week and also a possible clue that one of high-value coupons might be either in the video, or maybe questions about the video! Make sure to head on into the chat room if you'd like some help looking for these high-value coupons!! If you're new to the chat room, just look on the left hand side of the blog for a blue button that says "chat". Click that and then you can register a screen name or enter as a guest. Once in the chat room, make sure to turn your volume up, so you can be able to hear the bell that we will try to ring when the site updates with new coupons!!
Last week, there were a few different ways that people won

Old Navy Weekly

$75 off coupons, so I wanted to share those with you, with a few tips::
1) Searching and finding the coupon on the site – as always it's a good idea to familiarize yourself with the previous locations in case they use the same page with only a few minor updates/location changes for this week's update!

Go HERE

to see all the coupon locations from last week!!
2) Enter your mobile number on ON Weekly's site – a few people did receive a $75 off coupon for being one of the first to enter their text – this might be an option again this week! Last week it was in the lower left corner where you could enter your mobile number
3) Become a fan of a Supermodelquin on Facebook – right now you can become a fan of Supermodelquin "Kelly" on Facebook. Last week, they offered some $75/$100 coupons throughout this past week to people who became an early fan of "Kelly" and possibly for those who left a comment on her "Item of the week" post on her wall. Go HERE to become a fan of Kelly & watch for other supermodelquins to show up on Facebook possibly?!
4) Follow the Supermodelquins on Twitter – If you have a Twitter account, go to "Find People" and type in "Old Navy" and you should see all the various Supermodelquins come up, i.e., "Old NavyKelly", OldNavyEva", etc–make sure you follow all of the supermodelquins in addition to "Supermodelquin" – go

HERE

to see the list!
If they tweet something about the item of the week, if you're one of the first to "Retweet" that -then you could also be sent a $75/$100 coupon. To "retweet" something, here's an example of how you could retweet last week's tweet from OldNavyKelly:: RT @OldNavyKelly The exclusive scoop is in – The Item of the Week is the Blousy V-Neck for $8! Your friends might appreciate a tweet about that.