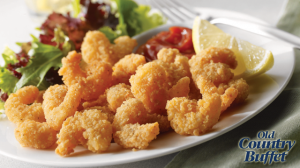 Just a reminder that this deal is still available – but it looks like there are only 75 left, if you missed it the first time we posted. We grabbed some 5/14 when we first posted this deal, and received our gift cards in the mail by 5/17. They came as four $10 gift cards! You can use them with coupons if you have any of those too, so its a great deal!
Love this deal. You can get a $40 gift card to use at The Old Country Buffet for just $20 on Get My Perks right now! You can even use them on Thursday Family Nights – kids 11 and under each eat for only $0.99, and everyone enjoys cotton candy, family activities, balloons and all their favorite foods.  It's 5-8 pm every Thursday – they look forward to seeing you there!
There are only a limited number of gift cards available, so I would grab this deal soon if you are interested, I already grabbed mine!
My kids love this restaurant, so this gets my pick for favorite deal of the day!
Limit of 5 per person, and the cards will be mailed to you. Can be used at any Old Country Buffet, but you will find a listing of the Puget Sound locations here.
Fine Print:
No expiration date. Card is a prepayment for meals and beverages available at participating Old Country Buffet®, HomeTown® Buffet, Country Buffet®, Ryan's® and Fire Mountain® restaurants. Each time the card is used, the amount of the purchase will be deducted from the remaining balance of this card, if any, subject to additional payment for purchase that exceeds the remaining balance of this card. Please retain all receipts for your records. This card is not a credit or debit card, and cannot be used to obtain credit or cash from a participating restaurant and has no implied warranties. The unused value cannot be redeemed for cash or credit, except as required by law. This card does not expire and no dormancy fees will be charged. Lost, stolen, damaged or destroyed cards shall not be replaced and no credit shall be given. This card may not be resold by any unlicensed vendor and unauthorized resale or attempted resale is grounds for seizure and cancellation without compensation. Cards obtained through unauthorized channels will be considered void. Menu varies by day time and location.