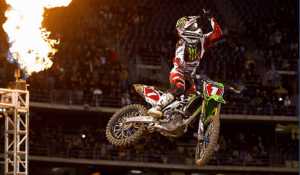 Nuclear Cowboyz Motocross 
Nuclear Cowboyz Motocross is coming to the Tacoma Dome this April! We found discount tickets at Goldstar.com! Tickets are on sale for as low as $23.00 per person. The regular price of a ticket is $37 – $52. Goldstar often offers discount tickets to popular entertainment events, and usually up to half off the regular price. They do charge a small service fee on top of the price of the ticket, per person.
There is also this deal on Get My Perks with tickets (with swag) starting at $35. PLUS you can download the Perks app and get an additional 25% off if you used that to make your purchase – so tickets would be as low as $26.25!!! The app information should pop up for you in the right hand corner on the main Get My Perks page here.
About Nuclear Cowboyz:
This isn't your typical freestyle motocross show. The Nuclear Cowboyz take you to a post-apocalyptic future where they fight the powers of the dark underworld for total world supremacy. The high-intensity battle is filled with awe-inspiring tricks, stunning laser effects, an indoor pyrotechnics show and an infectious soundtrack — plus gut-wrenching stunts by Shaolin Kung Fu Warriors. The Nuclear Cowboyz tour features precision riders like X Games medalists Ronnie Faisst, Mike Mason, Jeremy "Twitch" Stenberg, Taka Higashino and Colten Moore.
When:
April 6th 2014 – 2:00 p.m.
Where:
Tacoma Dome (Tacoma, WA)
2727 East D StreetTacoma WA 98421
Prices:
Full Price: $52.00

Full Price: $37.00