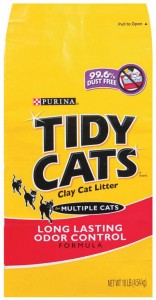 If you have a dog or cat, then you'll definitely want to print off these coupons & wait for a sale to pair up with the coupons.  Also, check out the deal at Walmart for Tidy Cat Non-Clumping litter.
New Purina Coupons:
Additional Purina Tidy Cat Litter Coupons:
$2 off Tidy Cat Litter Coupon: You can call 1-800-PURINA (or 1-800-778-7462) & wait to speak to an operator (it will say "press 1" to get a Tidy Cat coupon, but will then tell you to go to the website which I have listed below for a $1 coupon). If you talk to the operator, you can request a $2 off coupon to be sent by mail. I just did this & she said it will be sent within 7-10 business days. (She did say that the coupon could be used for clumping or non-clumping cat litter)
Deal Idea at Walmart:
If you head to Walmart with the Tidy Cat coupon, you could score non-clumping cat litter for around $1.67 (or slightly higher here in the NW):
Tidy Cat Non-Clumping Cat Litter – 10 lb bag for $1.67 (this is most likely slightly higher here in the NW)
Use $2/1 coupon by mail or $1/1 printable coupon
Final Price: Free or $.67/ea
Thanks Money Saving Mom!