I know that Green Giant makes all sorts of frozen vegetable options, but I had no idea they had entered the world of snack foods. This is good news because both my girls and my hubby love them some chips! Chips disappear quickly around our house, however we rarely buy them because we all would just choose to eat those all the time so I find that it's better to just not have the unhealthy options in the house.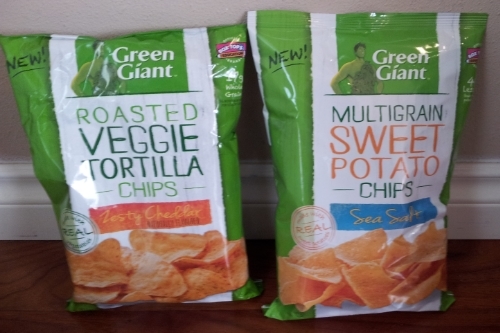 However, Green Giant has a surprise in that they have now ventured into providing Veggie Snack Chips. I've bought Veggie Chips before but I've been the only one to eat them, so I wasn't sure how it would go over with my husband and girls when we tried the Green Giant Veggie Chips. We were sent two Green Giant Veggie varieties to try – the Roasted Veggie Zesty Cheddar Tortilla Chips and the MultiGrain Sweet Potato Chips with Sea Salt.  My girls are fairly good eaters and eat some varieties of vegetables, but they are not as fond of trying new things.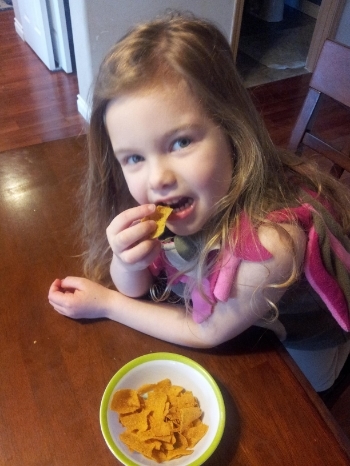 My younger gal enjoying the Green Giant MultiGrain Sweet Potato Chips 
However, all 3 of them literally scarfed the chips down.  They loved both of the varieties we tried, although the definite favorite all around was the Roasted Veggie Tortilla Chips in the Zesty Cheddar flavor. My husband thought they tasted very similar to his beloved look-alike cheddar-flavored chip, with that yummy cheddar flavor. However, I feel much better about him eating these chips made from vegetables than his regular snack chips any day.  Even though we only have chips on occasion, I definitely want to get my girls started on eating healthier options for those times when we do have snack foods like chips for gatherings or other events. These Green Giant Veggie Chips are definitely ones that you could stick out for a gathering and no one would be the wiser in knowing that they are Veggie Chips. My first priority is always to make sure my kids are eating enough fresh fruit & veggies, but these are definitely a great option when they have the munchies!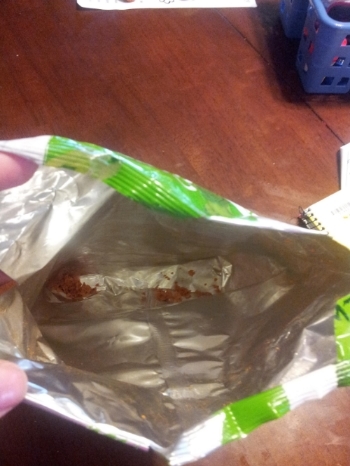 My family ate these Roasted Tortilla Veggie Chips so fast – I only got a picture of the crumbs! 
My favorite part is that these Veggie Chips are made with vegetables and they have 14-17 grams of whole grain per serving. The Multigrain Sweet Potato Chips also contain 40% less fat than regular potato chips, which I appreciate as I am someone who also loves to snack on foods, so I'm glad that it's better for your waistline!
 Here are the 3 new flavors for the Green Giant Veggie Chips:
The Green Giant™ Roasted Veggie Tortilla Chips – Zesty Cheddar Flavor
The Green Giant™ Multigrain Sweet Potato Chips – Sea Salt Flavor
*Green Giant Multigrain Sweet Potato Chips
Green Giant Veggie Chips Printable Coupon:
Since we are all about saving money & finding coupons for new products, of course we found a coupon for this new product for you.  Here is a printable coupon for $.85 off 1 package 5 oz or larger of Green Giant Veggie Snack Chips (any flavor), so that you can test these veggie chips out yourself and see if your family loved them as much as I did! Just pair this coupon up with a sale on these chips and you can try out a few varieties to see which are your favorites! 
Make sure to check out the Green Giant Facebook Page as well as their You Tube channel as they are sharing more information about their GIANT surprise – their new Veggie Snack Chips, but also sharing people's interesting & surprising  talents. If you have a unique talent, you can take a video & share it as well for everyone to check out!
Thank you to The Green Giant™ for being a sponsor. Show the Giant your surprise talent at www.facebook.com/greengiant .