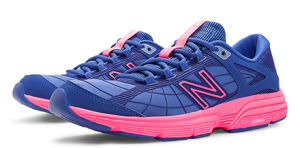 Check out this awesome deal on these New Balance Cross Trainers for only $29.99 at Joe's New Balance! This is a daily deal and is only available today! Normally this shoe will run you $79.99. But today it's only $29.99, that's a $50 savings! This cross trainer is made for all kinds of workouts, from home gyms to boot camps. You're going to love the versatility this shoe offers. Shipping will run you $5.95. If you spend $75 or more, you can score FREE shipping
More about this shoe:
This lightweight, low-profile cross-trainer is designed to maximize comfort while using cardio machines at home or in the gym. The 813 is also perfect for boot camps and other conditioning, making it a superior multitasker that supports you yet keeps your feet feeling great while you work out.
Synthetic/textile upper provides comfort and durability
N-Durance® rubber compound for maximum outsole durability
Multi-density insert provides excellent cushioning for all-day comfort
C-CAP® midsole provides cushioning and support
Sleek molded outsole and midsole
No-sew material application
Stretch quarter
Slow recovery foam on lasting board
Color: Blue with Pink
Shoe Last: PW-1
Weight: 263.6 grams (9.2oz)