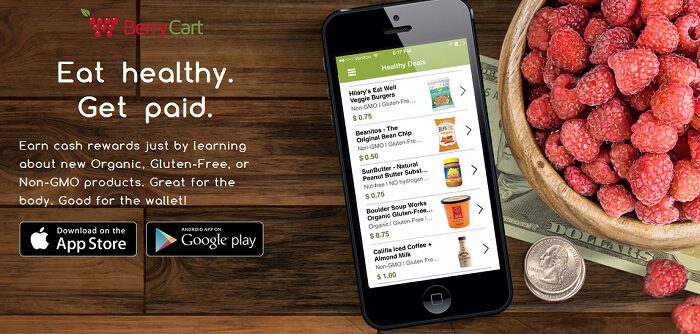 New App Called BerryCart Get Money Back
On Organic Food Items
You may have seen us post about the AWESOME apps like Checkout 51 and iBotta, that you use on your phone to earn cash back when buying products. Well there is a new one out called BerryCart App that works on organic and healthy foods!
The BerryCart App works like the others. You download the BerryCart App to your phone (Available for iPhones and Androids). Then you look to see what offers they have. All of their offers are organic and healthy food items. (Finely someone that has healthy and organic coupons!) Anyways when you buy products that they have offers for, you then take a picture of your receipt and submit it through the app.
After your offer has been approved they will deposit that amount into your BerryCart App account. Then you can either have the money sent to your Paypal account or various gift cards. Right now it works at over 25,000 locations including Whole Foods, Sprouts, Walmart, Target and much more!