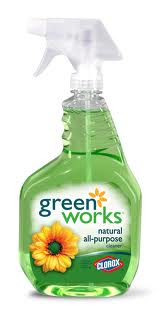 There are a couple of great deals on Green Works cleaning products going on at Target this week. If you like to buy natural cleaning products, these can be pricey, so this is a stock up price!
We have a child with Asthma, so have to be careful about the cleaning products we use in our house. We have used the Green Works products, and have liked them. They clean well without harsh smells, etc.
(Note – these prices may be regional, but we have confirmed them in one of the NW stores, so chances are you will find them in this price range throughout the NW. Comment below and let us know if you can confirm these prices for your store!). 
Green Works Spray Cleaners – $2.39
Use $1/1 Green Works Product or $1/2 Green Works Product
and use $1 off Target Mobile Coupon or  $1/2 Green Works Laundry Care, Cleaning or Dish Soap TARGET coupon
Final Price = as low as $0.39 each 
Green Works Wipes – $2.36 
Use $1/1 Green Works Product (or $1/2 Green Works Products)
and use $1 off Target Mobile Coupon or  $1/2 Green Works Laundry Care, Cleaning or Dish Soap TARGET coupon
Final Price – as low as $0.36 each