Mt. Rainier Scenic Railroad Santa Express Train – $14 Ticket (Reg. $27)!

Update – looks like this offer is available again – but for the 12/23 Train at 3:30pm.
The Mt. Rainier Scenic Railroad runs a Santa Express train this time of the year, and right now you can save almost half off the Mt. Rainier Scenic Railroad Santa Express with this offer on Deal Savers! Get tickets for $14 ea (Reg. price is $27).
Departing from the 'North Pole' located at the Elbe Depot, passengers will travel along streams and forests while visiting with Santa! Sometimes there is even snow on the ground this time of year.
Passengers of all ages can visit with Santa and receive a gift, enjoy holiday music, hot cocoa, cider and cookies! The passenger cars are decorated with trees, lights and garlands to keep the holiday spirit going! Don't miss out! This is one magical experience to be remembered for years to come!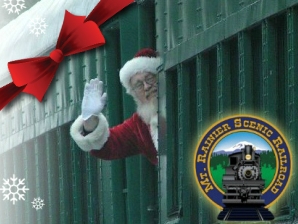 You can buy up to 2 tickets at this price (1 for you and 1 as a gift). Kids 3 and under are free during the regular season, but I am not certain they are for special events. You might want to call ahead if you have kids 3 and under to find out if you need to purchase a ticket for them first.  There will be a $2 fee added at checkout too.
The fine print is a bit confusing on this offer, but it was so popular the first time we posted, we wanted to let folks know about it again. It now states: Valid only for  Promotional Value valid for 12/23 train (at this time) 3:30PM trains.  But, it does also say please call ahead for available dates (so our recommendation is that you may want to call and check on available dates before purchasing)!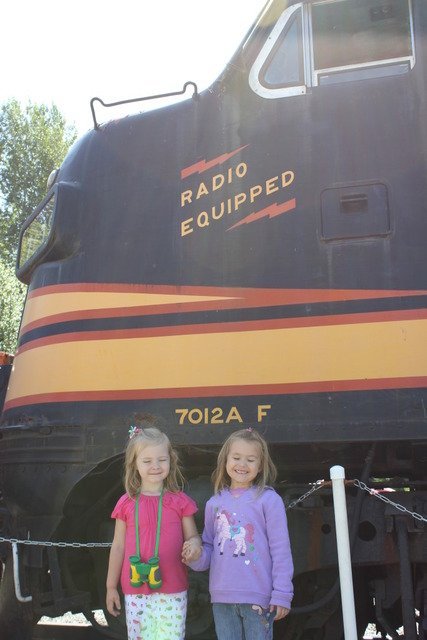 Jen's older daughter & niece in front of the train (too bad they both have their eyes closed)
Fine Print:
Promotional Value valid for 12.23.13 trains at 3:30 pm

(at this time)

Please call ahead for available dates. 


Paid Value does not expire.
Event-Related Certificate: Limited refunds and redemption period, see dealsaver Terms of Service or contact the merchant directly.
No cash value. No cash back for unused portion.
Tax and gratuity not included.
Certificate cannot be combined with other coupons, discounts or promotions.
Additional $2 processing fee required at the time of reservation.
Reservations required. Please schedule your reservation at 360-492-5588.