Mother's Day Giveaway: $50 Macy's Gift Card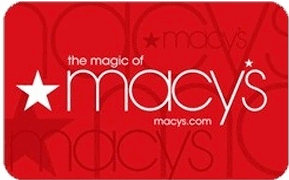 Mother's Day is this coming weekend and it's always a time for me to reflect on what it means to me to be blessed to be a mother to my two precious little girls and to also acknowledge and remember the sacrifices that my mom made for me growing up and the person that she helped shape me to be. If you wonder where I got my frugal nature from, it was definitely from my mom (as well as my grandma, her mom who grew up in the depression era & was the ultimate repurposer/re-user of household items). Both of these ladies shaped me to always be mindful of my spending and to look for ways to cut my spending. Growing up in a military family where we moved every 2 years, we had to keep a tighter budget with always starting over in new houses & locations as the costs would add up. We shopped at the commissary as a kid and I still remember helping my mom cut out coupons and putting them in an envelope to use on the already low commissary prices.  We also were always on the hunt for the clearance racks when shopping in the stores, too. Since we were always having to redecorate houses, we frequently hit up garage sales and auctions for home decor items that would fit into our newest house and my mom and I still love to hit up a good garage sale. My mom's motto was "Why buy new when you can get nice, pre-used items for a fraction of the cost".
Even though my mom loves a good bargain, she also believed it was important to splurge every now & then, which I appreciate now as a mom. It's important to take time for yourself and enjoy those splurges every so often, like a trip to the mall to get something special to wear to make you feel good about yourself. Now, with online shopping and so many options available, it's even easier to do a little something special for yourself when you don't have time to get out for a little shopping time – you can shop online. I recently learned that Coupons.com not only offers printable grocery coupons, but they also offer coupon codes for retail stores to use online for extra savings. I checked out the Macy's coupon codes on Coupons.com and found everything from an extra 15% off coupon code as well as free shipping with a minimum purchase, as additional ways to save on sales happening at the stores.
Giveaway – $50 Macy's Gift Card
Coupons.com is offering a special giveaway for a lucky Thrifty NW Mom reader to win a $50 Macy's gift card.  This giveaway will end on Mother's Day, so it could be a great ending to your Mother's Day to have a gift card to do some fun shopping at Macy's as a way to spoil yourself a little bit!
This giveaway will end on Sunday May 12th  at 9pm pst.
The winners will be drawn using "And the Winner Is" plugin and announced on the blog.  I will also email the winner. The winner will have 48 hours to contact me, otherwise a new winner will be drawn. US residents only & you must be 18 yrs or older to enter the giveaway. This giveaway is not affiliated with Facebook in any way.
Here's how to enter this giveaway::
1st Entry (required entry): Comment with the best advice your mother ever gave you
Extra Entries : (make sure these are all separate comments, with a comment for each entry)
2)  Visit the Macy's coupon codes page and tell us your favorite coupon code available now
3) Leave a comment saying you "like" the Coupons.com Facebook page
Disclosure: This is a sponsored post by Coupons.com and we were provided with a gift card for our time .  A $50 Macy's gift card also will be given to one Thrifty NW Mom winner randomly chosen.  All opinions are 100% mine. See our disclosure policy  for more details.