I have a few more South Sound events to add to our BIG list of free or frugal family-friendly activities in the Northwest!  If you're looking for a fun activity for the whole family, make sure to check out that list. And please let me know if you have any events we can add to our list. I'd love to include events from more areas around the Northwest! Feel free to leave a comment or send me an email at thriftynwmom (at) hotmail (dot) com.
Weekend Events:
Tacoma Parents of Multiples Annual Clothing & Equipment Sale – Saturday 2/26 10am – 2pm; Bates Technical College/Tacoma.  Thanks Stephanie!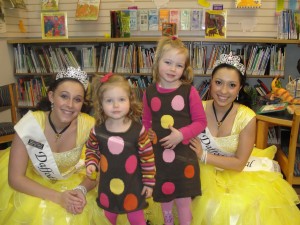 Daffodil Princess Events at South Hill Mall – Saturday 2/26 & Sunday 2/27 from 10am -4pm; the Daffodil princesses will be reading stories to the kids all day long in the play area & they will have crafts (bookmark creating, button making, crown making, & autographed posters) in the Center court.
We went to the Daffodil Princess Storytime at the Pierce County libraries last weekend (as you can see by the picture of my girls up above with 2 of the princesses) & I was so impressed with how much time the girls spent with the kids. They were so personable & spent over 45 minutes reading stories to them & chatting with them.  After a little while, they even got down off their chairs & sat down on the floor & invited the girls to sit in their laps. There were just a few girls at our little library, so they were a bit shy, but I loved how down-to-earth & authentic these girls were in all their interactions with the kids.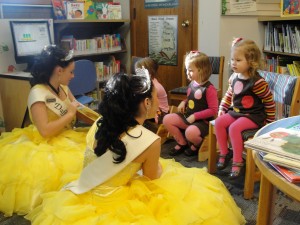 In talking with them at the library, it sounds like they will have a strong community focus this year – so look for even more opportunities to meet & get to know each of the Daffodil princesses (including another library storytime later in March).  Make sure to follow the Daffodil Festival Facebook page to stay up-to-date on all of the different activities going on this month & next month.