Modnique: $10 Coupon Code + $5 Credit for New Members = Kids Rain Boots – $4.95 shipped!
I have another new daily deal, sample site to tell you about – Modnique.  This site offers designer items at reduced prices similar to Rue La La & Haute Look.  When you sign up for Modnique, you'll get a $5 bonus credit.  For a limited time, they also have a $10 off coupon code, which can make for some great discounts on their Kidorable sale or the author-signed children's books.  The $10 off + $5 credit can also be used towards shipping.  Shipping starts at $7.95.
Kidorable has kids rain gear on sale right now & with the discount, you could get boys or girls rain boots for as low as $4.95 shipped. Or a rain coat for just $7.95 shipped.  I bought a pair of Kidorable Houndstooth rain boots in the spring (thru another sample site, BTrendie) & they have worked out great for my daughter – I definitely think they are quality rain gear!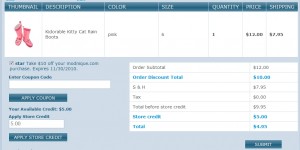 Here's how to take advantage of this deal:
Sign up (or login) to Modnique
Find the items you're interested in & put them in your cart. Click on "All Sales Events" – I found the best prices under the "Kidorable" sale & the "Author-Signed Children's Books by Barney Saltzburg"
Head to "Checkout" & select "Credit Card Payment" (the coupon code will not work if you use Paypal as the option to pay)
Enter coupon code for $10 off: star  – click "Apply Credit"
Enter store credit amount: 5.00 – click "Apply Credit"
Your total should have $15 off.  I chose the Kidorable Kitty Rain boots & my total came to $4.95 shipped!
And here are some items you could use your credit & the discount on for maximum savings:
Kidorable Dolphin Rain Coats – $15 – after discounts = $7.95 shipped
Kidorable Fairy Rain Boots – $12 – after discounts = $4.95 shipped
Kidorable Zebra Umbrella – $6 -Buy 2 for $12 – after discounts & s/h of $9.90 = $6.90 shipped
Cornelius P Mud Book – $11 – after discounts – $3.95 shipped
Modnique also has a referral program – so if you refer your friends & family, you could earn up to $15 in referral credits for every person that makes a purchase.  You can share via Facebook, Twitter, email & more. Just click on the tab at the top of the screen where it says "Invite more friends & earn unlimited credits".
Thanks Frugal Living NW!