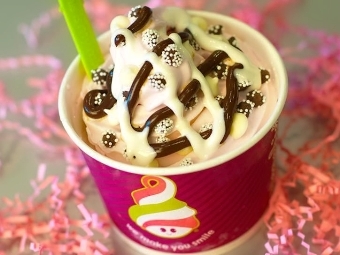 The Menchies deal at  Dealsaver.com is still going on and it's an awesome deal! You can use our pecial promo code: NWMOM  for $5 off a purchase of $10 or more. You can use this coupon code to get 2 $14 vouchers ($28 value) for just $9 after the coupon code! So, that's $28 to spend at Menchies for just $9!
This $5 off promo code: NWMOM is  unique to Thrifty NW Mom is available to use on any deal on the Dealsaver website! It can be used once per account (and only 1 account per family).  You will need to spend at least $10 minimum (before coupon code) to be able to use the $5 off coupon code. For the Menchies deal, you will need to add 2 deals for $14 ($7/ea) and then use the $5 off coupon code to get it for $9 for $28 in vouchers.
Each $14 voucher will need to be spent in 1 transaction.
Here's how it works: 
Head to Dealsaver.com and add the deal that you're interested in – if it's the Menchies deal, add 2 deals to your cart (there is a maximum of 2 deals for Menchies)
This will make your subtotal $14
There will then be an option on the final checkout page to enter a promo code at the top
Use the coupon code: NWMOM (all caps) to get $5 off your purchase of $10 or more
The final price will drop to $9 for 2 vouchers to Menchies (worth $28)
This offer is available to use at only the following locations:
Sunrise Village
10306 156th East
Suite 101
Puyallup , WA 98374
Federal Way
1409 S. 348th St. #D101
Federal Way, WA 98003
Bonney Lake
2120 State Route 410 East
Bonney Lake, WA 98391
Queen Anne
2101 Queen Anne Ave North
Seattle, WA 98109
Bellevue (Kelsey Creek)
14865 Main Street
Bellevue, WA 98007
Northpointe

2902 164th St. SW

Lynnwood, WA 98037
Fine Print:
Promotional Value valid until 6 month(s) after purchase date.
Paid Value does not expire.
No cash value. No cash back for unused portion.
Tax included.
Voucher good towards Food & Drink.
Voucher Good for Single Transaction.
Limit 2 Per Person.
Certificate cannot be combined with other coupons, discounts or promotions.
More deals:
 If you'd rather use this unique $5 off coupon code on another deal (remember you can only use this code only once per account), here are a few other options :
Use the $5 off coupon code:
NWMOM
at checkout
Final Price: $13 for 3 games of bowling and shoe rental for 4 people