Marvel Universe Live Discount Tickets – Seattle & Tacoma
Marvel Universe Live is an all new, action packed super hero stunt show that is coming to both Seattle & Tacoma this  month.  There will be a total of 25 Marvel super heroes that will be in this stunt show and it will be an original story that is all new to watch. There will be amazing special effects, pyrotechnics, aerial stunts, martial arts, motorcycles and awesome video projections throughout the show.
Marvel Universe Live will be at Key Arena in Seattle from February 19th – 21st and then at the Tacoma Dome from Feb 25th – 28th.
Here's more information about the show:
Marvel Universe LIVE! will captivate audiences with an authentic and original story that brings more than 25 Marvel icons together on one awesome quest.  The Cosmic Cube, the source of ultimate power and one of the most feared and coveted treasures in the Marvel Universe, has been shattered into pieces by the Mighty Thor in order to prevent it from falling into the wrong hands. With the pieces scattered across the globe, Thor's villainous brother Loki devises a scheme to clone its powers, inciting a threat that could not only decimate Earth but also obliterate the Universe.
Dates for the Shows::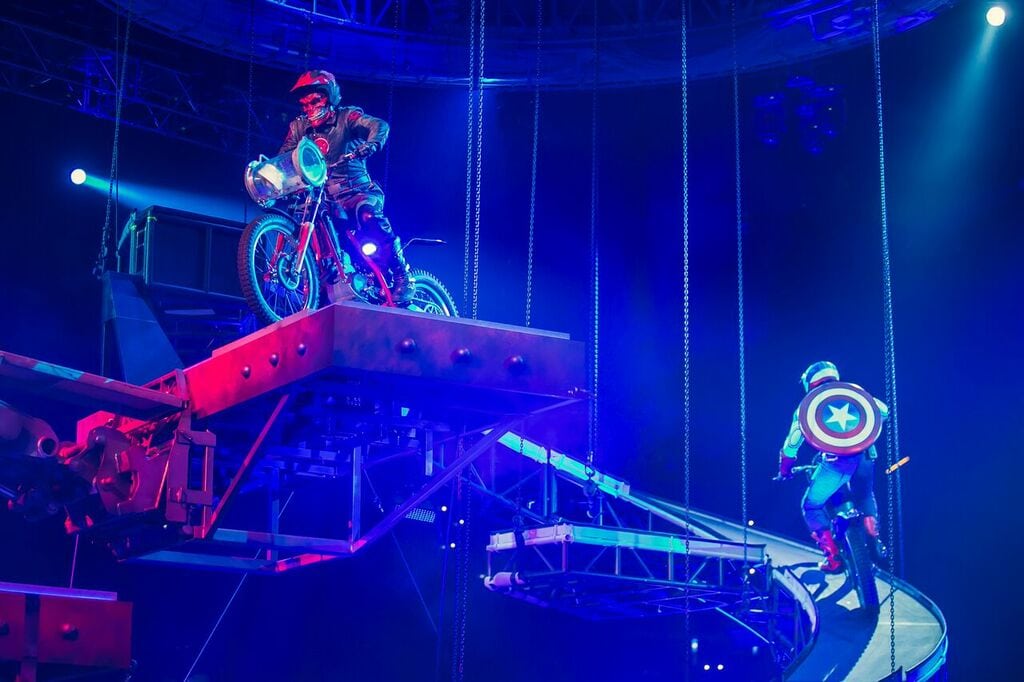 Seattle – Key Arena, Seattle Center
Friday, February 19                7:00 PM

Saturday, February 20            11:00 AM, 3:00 PM & 7:00 PM
Sunday, February 21 1:00 PM & 5:00 PM
Tacoma – Tacoma Dome
Thursday, February 25           7:00 PM

Friday, February 26                7:00 PM
Saturday, February 27            11:00 AM, 3:00 PM & 7:00 PM
Sunday, February 28              1:00 PM & 5:00 PM 
Discount Tickets
Tickets to Marvel Universe Live range from $28 – $85/ticket and $15 for kids ages 2-11, which can definitely be pricey for a family. You can purchase tickets online at Ticketmaster.com, charge by phone at 800-745-3000, or in person at the Box office at Key Arena or Tacoma Dome.
*Tickets may be subject to service charges, facility and handling fees; ticket prices subject to change/market demand
Free Opening Night Ticket with Costume::
The Pacific Science Center is hosting a Marvel Universe Live Costume Contest on Wednesday February 17th at 12pm. For anyone who shows up in costume, you will receive a FREE ticket to the opening night performance of Marvel Universe Live in either Seattle or Tacoma.  They also mentioned that the event will give families a fun outing with an opportunity to mix and mingle with all of the Marvel Super Heroes.
Discount Opening Night Tickets:
If you are able to go to Opening Night (but not able to go to the costume contest, you can also get seats as low as $20 for opening night on select seats. (This does not work for VIP levels) & you will need to see if there are still any available. But this is one option to be able to save money on the show.
$5 off Discount Code:
We found another discount for you for the Marvel Universe Live show for both the Seattle & Tacoma events. You can use the coupon code: MOMBLOG to get $5 off tickets in the two bottom price levels. There is a limit of 4 tickets per purchase. This coupon code is valid until 2/18 on all shows except the Saturday 3pm, Sunday 1pm & Thursday 7pm (in Tacoma only). You can use the code online, by phone or at the Box Office.
How many of you are headed to the show?