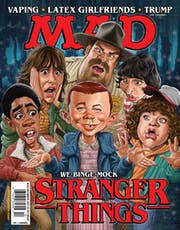 Mad Magazine – Subscription for $11.99 (66% Off)!
Today only, subscribe to MAD Magazine for only $11.99 per year (66% off)! You can order up to 3 years at this price! Just enter coupon code THRIFTYNWMOM
Subscribe to MAD Magazine at these discount prices for a short time:
1 year subscription for $11.99 (66% off) with code THRIFTYNWMOM
2 year subscription for $21.99 (69% off) with code THRIFTYNWMOM
3 year subscription for $29.99 (72% off) with code THRIFTYNWMOM
This offer expires at Saturday 05/18/19 11:59 PM EST EST
More About Mad Magazine ::
Mad Magazine is magazine of social parody, political satire and just plain silliness. It was originally designed as a comic book (it launched over 40 years ago, so this title has been around for a very long time now), but is now a satire magazine, and uses humor to cover various popular cultural, entertainment and political topics.
Over the years the Mad Magazine Covers have become somewhat of a collectors item, to those who love this magazine. There are some covers that are more sought after then others, but it is a fun fact to know about this magazine. It is one of the more popular magazine titles, and gets a 4.5 star review
Find out more about it here. 
If you find another magazine you like at Discount Mags as well, use the coupon code: THRIFTYNWMOM & you should get 20% off the order price (this may not apply to all magazines, but it does work for most of them)
Find more Magazine Subscription deals here.