Lowes – Free Creative Ideas Magazine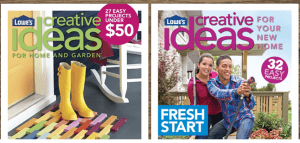 Lowes has a decorating / project idea magazine that they publish quarterly. Its called Creative Ideas for Home and Garden, and its FREE! You can subscribe to get  a free print magazine quarterly, or go online and check out Lowes Creative Ideas extras (online videos and all).
I recently received this quarters magazine, and loved it. For a freebie, it was full of some really fun ideas (a couple of which I hope to use for gift ideas).   This quarters edition had 27 projects under $50 including things like bird houses, wooden dowel fruit baskets and many more. Do you get this freebie already? What do you think of the quality of this magazine?