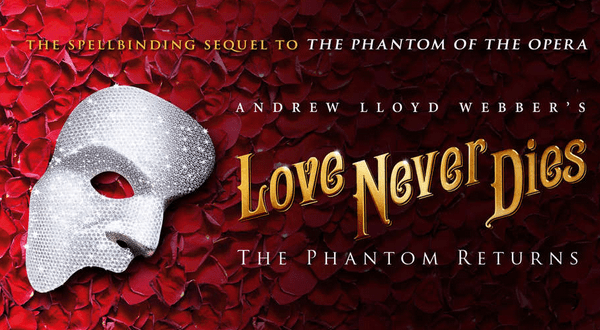 Goldstar.com is offering discount tickets for the musical, Love Never Dies, which is now playing at the Paramount Theater for this week. This is the sequel to the Phantom of the Opera  and I've heard wonderful reviews about this play. It looks amazing, especially as the Phantom of the Opera is coming later this summer, as well as Les Miserables. So many wonderful musicals at the Paramount Theater this year!
Prices start at $37 (reg $54) – $86 (reg $129). Dates to the Love Never Dies musical are selling fast & there are several dates already sold out, so you'll want to look quickly if you are interested in tickets! This would make a fun Mother's Day event this weekend!
Friday May 11 at 8pm
Saturday May 12th at 2pm
Saturday May 12th at 8pm
Sunday May 13th at 6:30pm
Love Never Dies is one of the hottest shows in town, but a number of tickets for individual seats are still available — as long as you snatch them up fast! The ultimate love story continues in Andrew Lloyd Webber's spellbinding sequel to The Phantom of the Opera. Ten years after disappearing from the Paris Opera House, the Phantom has a new life in New York where he lives amongst the joy rides and freak shows of Coney Island. Christine Daaé, now one of the world's finest sopranos, is coming to perform in New York. In a final bid to win back her love, the Phantom lures Christine, her husband Raoul and their young son to the glittering and glorious world of Coney Island, where anything could happen. Don't miss this epic sequel to one of the most spectacular musicals ever to grace Broadway, as Love Never Dies brings its thrilling rollercoaster ride of intrigue, obsession and romance to the Paramount Theater in Seattle.
More Discount Entertainment & Family Fun Options::
Find more discount entertainment tickets from Goldstar! Here are a few more options:
And don't forget to check out our list of FREE & Frugal Events & Activities around the Northwest each week!