LivingSocial "Experience" Christmas Gifts + Win $100 In Living Social Deal Bucks! #Gift2TalkAbout
This post may contain affiliate links and I may be compensated for this post. Please read our disclosure policy here.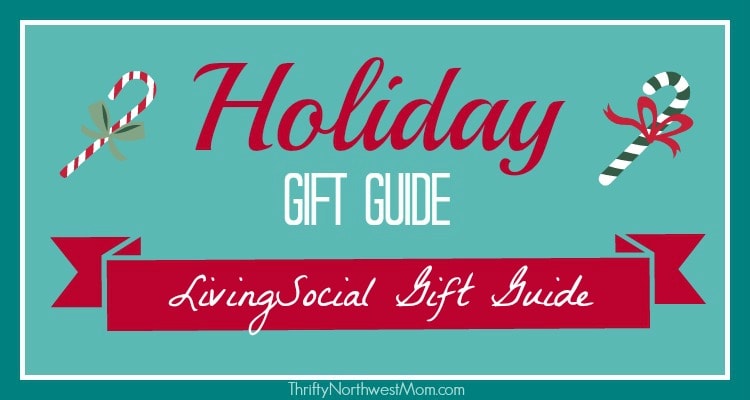 I love "Experience Gifts" as they create memories, rather than just providing new stuff. We have teamed up with LivingSocial this year to share some fun local "Experience Gifts" that you can gift to the friends and family on your Christmas List. There are some great ideas for Christmas gifts you can get those still on your list at LivingSocial. Its the perfect way to shop for last minute gifts too. They do have products you can buy, but I love the idea of giving experience gifts. Its one less thing to have to store, and they are great for making memories. I have received these types of gifts in the past, and they are some of my favorites!
We have compiled a list of ideas you can use for doing your Christmas shopping at LivingSocial. Most LivingSocial deals can be gifted – just look for the gift icon on the purchase page. Whether you want to give the gift immediately or schedule it for a future date, our digital delivery options make "wrapping" a cinch.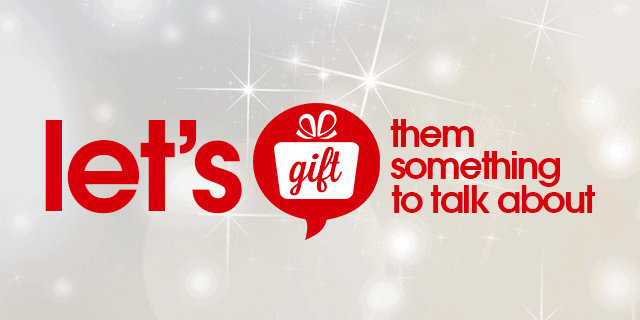 Experience Gifts:
These make great family or couple gifts. Rather than purchasing an item for everyone in the family, how about getting them one family gift that they can all use together after the holidays (they are great for personal gifts too)!
Family Gifts:

Tickets to Harlem Globetrotters – Kent, WA , Everett, WA  or Portland, OR
Get discounted tickets from LivingSocial to the Harlem Globetrotters on February 12, 14, or 15 in the Puget Sound area & February 20th in Portland. The world famous basketball team displays their awesome ball-handling skills, dunks, and tricks, all while making you laugh. After the game, fans can get autographs and photos with the the players. Tickets are $37-$50/person (reg $61-$82).
This one makes our list of ideas, as I think its a fun way to create memories with your kids, that they will probably share with their kids. I was at an extended family Christmas party recently, and we were all sitting around reminiscing, and one of my husband's uncles tells everyone about one of his favorite childhood memories. It was when my husband's grandma took the boys to the Harlem Globerotters game. All these years later and it's still a favorite memory!
Hands On Children's Museum – Olympia, WA
This award winning museum features exhibits on the local environment, arts and crafts and safety! Children can explore the Fabulous Forest and Puget Sound galleries, or climb the Tide to Trees Climber & Slide.  Admission for a family of 5 for only $29.99 on LivingSocial, a 50% savings!
This is definitely my girls' favorite children's museum around the Northwest! It just is filled with so many fun areas that they love & once they moved to their new location, it just can't be beat, so this is sure to be a hit as a gift!

Portland Winterhawks Hockey Tickets – Portland, OR
Hockey games are full of action & fun & right now, LivingSocial has discount tickets for several Portland Winterhawks  games in the winter (January & March) which would make for a fun family event or a night out with the guys when you give the gift of tickets to a game. Tickets are almost 50% off at $14/ticket (regularly $27).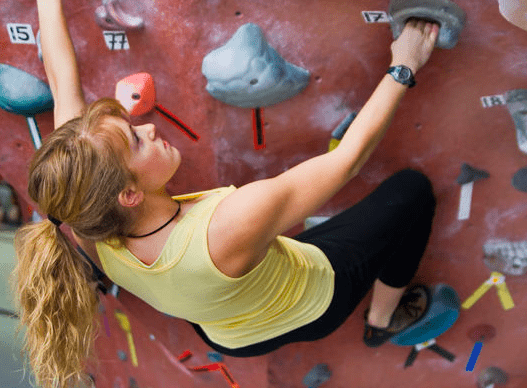 Climb Tacoma – Tacoma, WA
Indoor rock climbing is perfect for burning off some wiggles during the winter! This is a fun workout for kids and adults. Get a pass with shoe rental and chalk for 2 days ($22) or 10 days ($90), a 50% savings on LivingSocial right now. This gift is ideal for kids over the age of 8.
My 9 year old recently tried a similar rock climbing experience to earn a badge with American Heritage Girls (similar to Girl Scouts) – she & the other girls thought it was such a fun idea!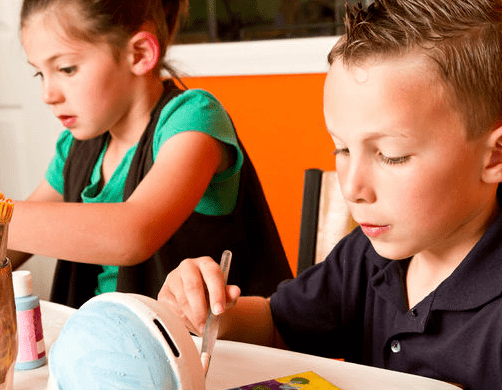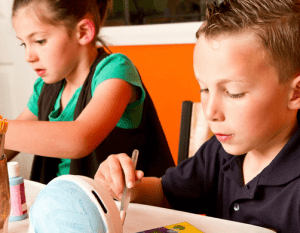 Emerald City Fired Arts Studio & Gallery  – Pay $10 to get $20 to Spend on Paint-Your-Own Pottery, Mosaic, or Glass Fusion Projects
This one is so cool because you can buy it ahead of Christmas for one of your kids. Then,  take your child in before Christmas to make a special personalized gift for the grandparents or someone else special to them. I did this with my son one year and he made a mug for grandma. My mom still brings that mug out every Christmas and it's a centerpiece of her Christmas decor. She loved it and we had a blast making it at the art studio!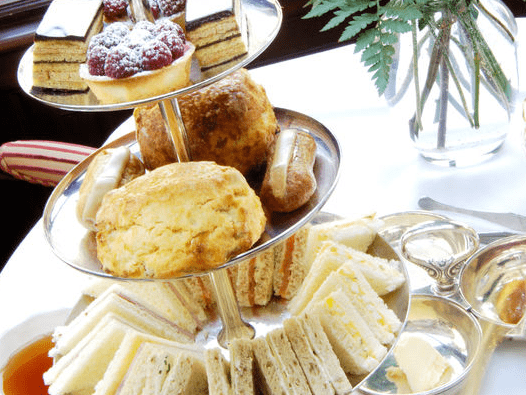 Elizabeth and Alexanders English Tea Room (Bothell) – $20 Toward High Tea, Breakfast, Lunch, Treats, and More in a Delightful, Elegant Atmosphere!
This place is wonderful for all ages, but this could be a really special deal for a mom/grandma and daughter/grand-daughter day out or just a girls day out. This spot was voted #5 for the Best Tea House on Evening Magazines "Best Of" list last year! I actually grew up with the family that owns this spot (we used to carpool to school together each day) and they are great people! Their care shows in the details of this tea house. Plus, it's set in Country Village, which can be a fun little destination spot with kids for an afternoon out too!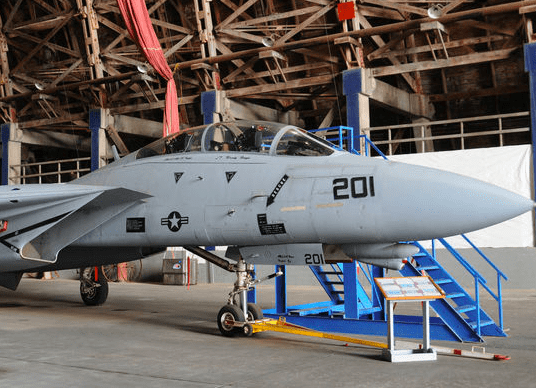 Naval Air Station Tillamook Museum – Tillamook, OR
Explore more than 15 wartime aircraft stored in an authentic World War II blimp hanger. This is a steal at only $13 (regularly $25) for admission for 2 adults and 2 children on LivingSocial. For kids who love airplanes or adults who love history & airplanes, this could be a fun place to spend the day.
Couples Gifts: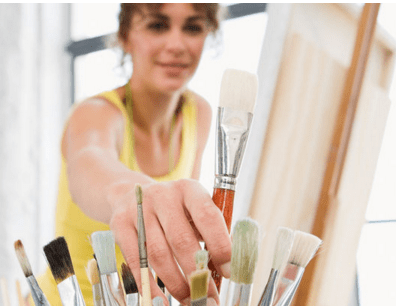 Mind Unwind – $40 for 2 ($80 value) for a Date Night package for two in Seattle for an acrylic or watercolor painting class.
The reason that I love this one is it's a gift not everyone would buy for themselves. But, it can be really rejuvenating to get out for a long, relaxed evening as a couple and having something scripted to do helps you to enjoy each more sometimes! My son's friends own a wine bar and hosted an event for the teens one evening and he said they all had a great time!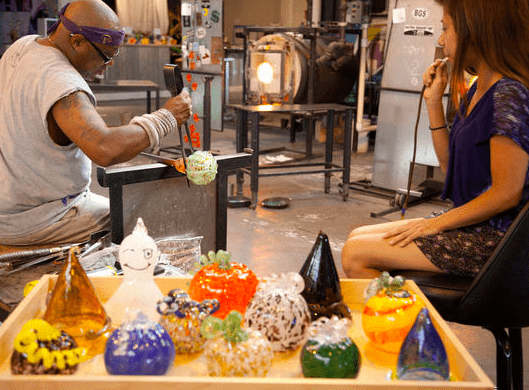 Glass Blowing Activity – Seattle, WA
Under the guidance of an expert glass blowing artist, make your own blown glass pumpkin. Experience the magical process of heating and shaping molten glass to a color that you choose. This experience is only $35/person (regularly $60) on LivingSocial and is perfect for those who are into art or creative outlets like this. It would definitely make for a fun, unique date night.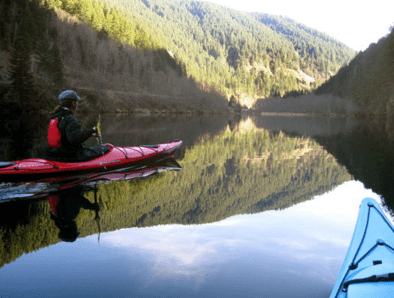 Guided Kayaking Tour – Oregon Coast or Willamette Valley
This would be a fun date day adventure or adventure with friends to take a guided kayaking tour in various locations such as the Tualatin River, the Nehalem Bay, Estacada Lake & more. Discount tickets are available on LivingSocial for $49 for a 3 hour tour for 1 (reg $75) or $99 for a romantic couples destination tour (reg $150). Not only will you get to see some gorgeous areas from a unique perspective, it's also a great way to spend time together, while getting active & being outdoors, which is often a New Year's goal for many.
Getaways
Who would not want to get a vacation as a gift? With some of these LivingSocial Escape deals, it might be in the budget to gift someone a little mini vacation!
Here are some of our favorite picks:

Adrift Hotel,  Long Beach, WA starting at $79/nt with the LivingSocial discount!  Book a one-night stay for two in a Standard Queen Room Sundays through Thursdays for $79 or a two-night stay for two in a Standard Queen Room Sundays through Thursdays for $109 or Fridays and Saturdays for $159.  You'll get a $10 dining credit to Pickled Fish and two seasonal Tall Boys!
This is a nice option in the wintertime, as it's fun to go as a couple or with families to storm watch on the coast during this season.
The Oregon Coast is one of our favorite places to head to for a getaway and LivingSocial is offering discount accomodations for the Seaside Oceanfront Inn, with prices starting at $99/night. This hotel is right on the Seaside promenade, which is fun to stroll with kids or for people watching as a couple. Seaside is a fun destination with families, with the variety of things to do, both indoor fun & outdoors exploring the ocean beaches. We love to stay in Seaside as everything is pretty close & walk-able for families with a fun variety of kid-centered ideas.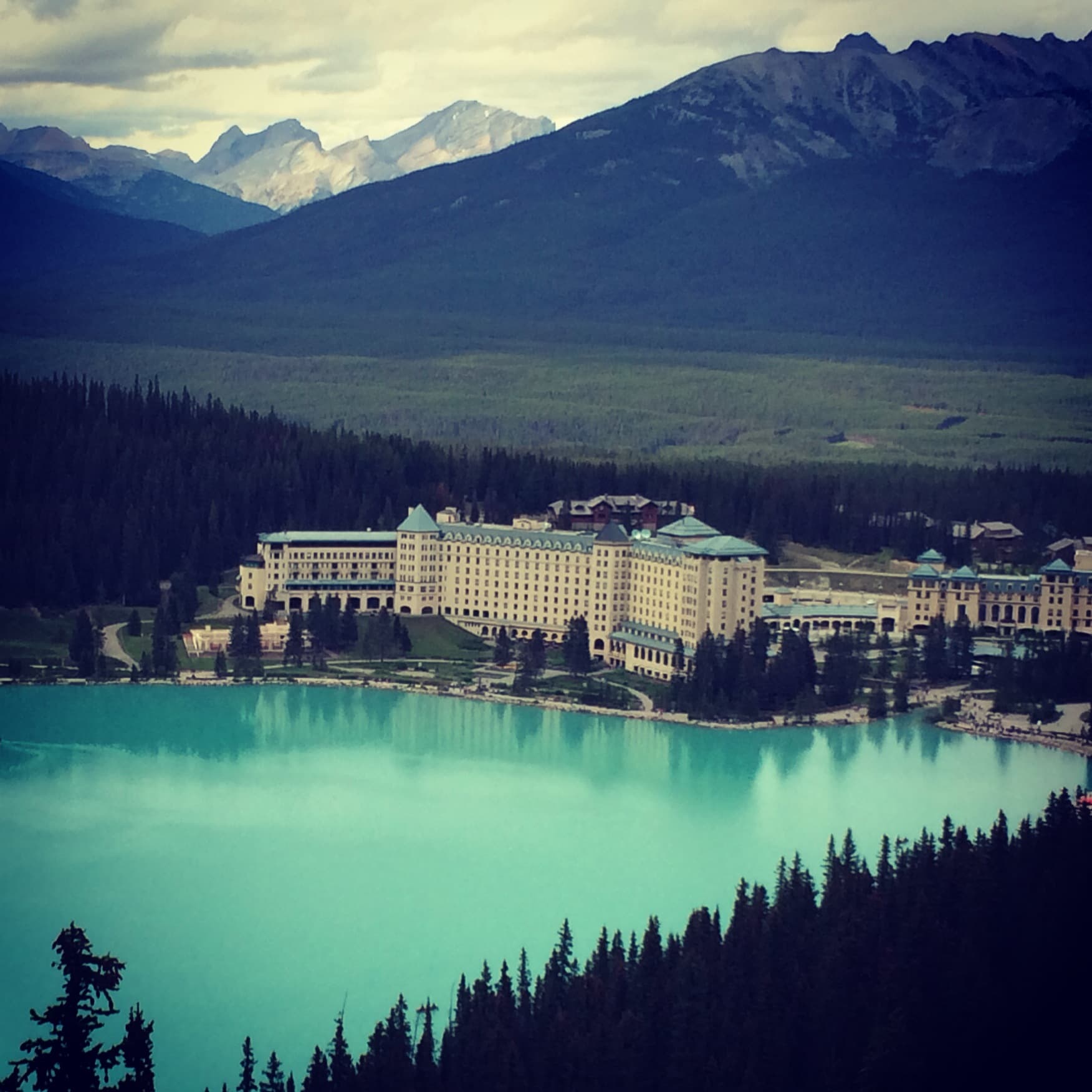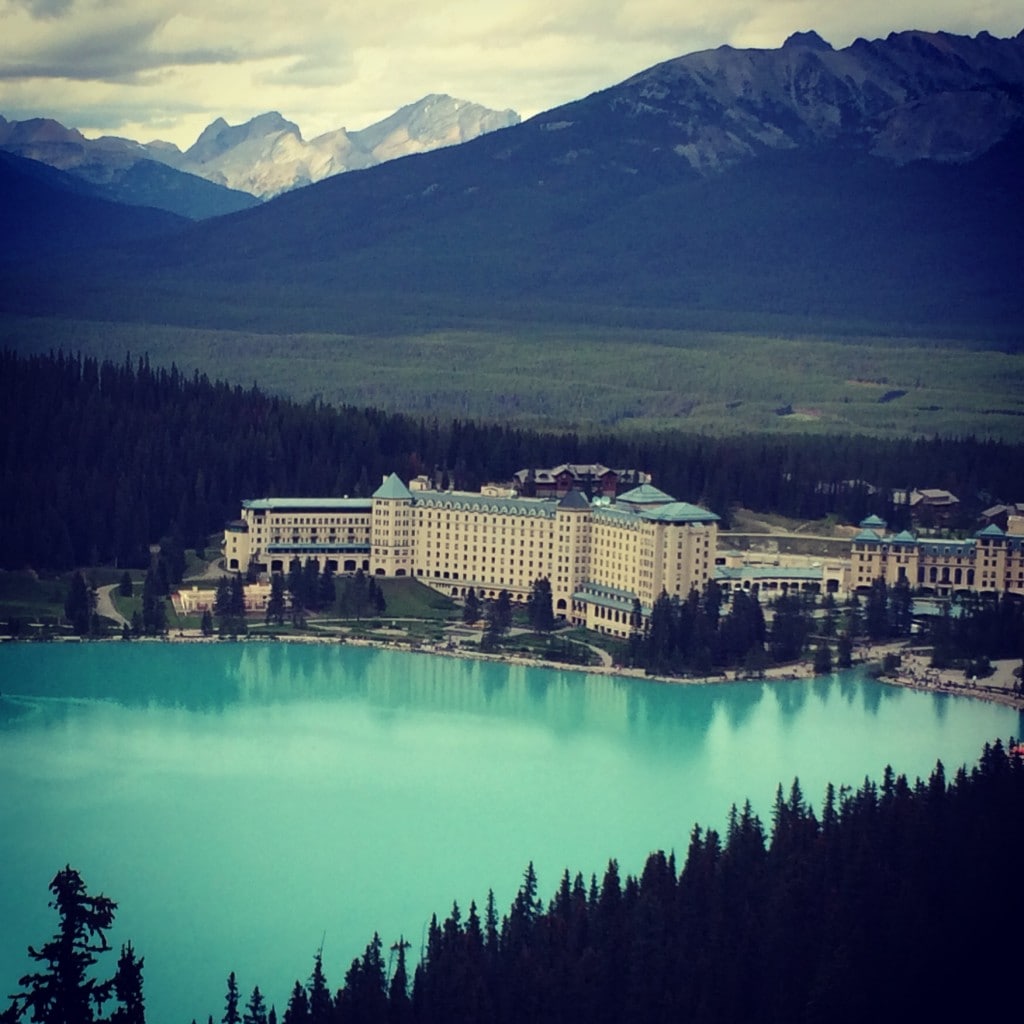 This is a picture Jen took on her recent trip to Lake Louise / Banff  – it's almost unreal it's so beautiful!
Banff, Canada (Canmore)-  Pay as low as $99 Canadian to stay at the Coast Canmore hotel & conference center (just 20 minutes from Banff). This also includes breakfast.
This place is gorgeous (well, I only know from the pictures but hope to go one day soon). Jen and her family headed up there last summer and those are her photos above.  Here is what Jen had to say about Banff:
"Banff is a cute little Alpine town right in the heart of the Canadian Rockies. The mountains are majestic and the rivers & lakes are a gorgeous glacier green color. Banff is home to the famous Banff Springs Hotel (seen above in the picture) as well as only a 45 minute drive to the most beautiful place I have ever been – Lake Louise. Lake Louise is a breathtaking green lake nestled in the midst of the beautiful Rockies. It is a drive out there to Alberta (10-11 hours from Seattle area), but the trip is very well worth every minute you would spend in Banff National Park. Definitely my favorite place I've ever been to!"
Giveaway – $100 Deal Bucks for LivingSocial
We  have teamed up with LivingSocial to give away $100 Deal Bucks for one winner to use on the LivingSocial website for anything -whether it be a destination, experience gift, restaurant discount or more!
This giveaway will end on Monday December 21, at 9pm pst.
The winner will be drawn using "And the Winner Is" plugin and announced on the blog.  We will also email the winner. The winner will have 48 hours to contact me, otherwise a new winner will be drawn. US residents only & you must be 18 yrs or older to enter the giveaway. This giveaway is not affiliated with Facebook in any way.
Here's how to enter this giveaway::
1st Entry (required entry): Let us know what your ideal Experience gift would be. 
Extra Entries : (make sure these are all separate comments, with a comment for each entry)
2) Subscribe to the Thrifty NW Mom email (must be verified). Leave a comment to let us know you're subscribed!
3) Join the Thrifty NW Mom Facebook Group where we share all of the deals that are posted on Thrifty NW Mom in real-time
4) Share this giveaway using one of the share buttons at the bottom of the post. Leave a comment to let us know how you shared – Facebook, Twitter,  email, word of mouth, in a Facebook group, Pinterest,  you name it!
Disclosure:  LivingSocial  sponsored this post & is providing these $100 deal bucks to a Thrifty NW Mom winner.  All opinions are 100% mine. See our disclosure policy  for more details