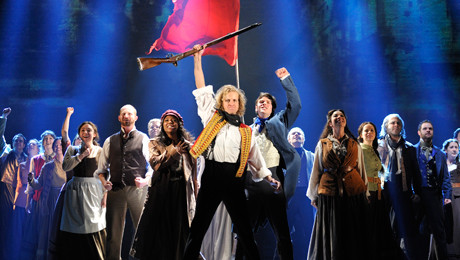 This deal is a little pricier, but if you enjoy the theater then you will know its still a great deal. It can be tough to find too many deals to the 5th Avenue. Right now they are showing Les Mierables, and you can get tickets to the showings through July 8th for 55% off. I would hurry if you are interested, the shows through July 4th (with this discount) have already sold out! Tickets are selling fast.
The discounted tickets are $52 ($116 regular price). You will have to pay an $8 service fee, so a total of $60 for a ticket that would otherwise cost $116 full price.
To get your tickets at 55% off:
Head to Goldstar and login or sign up (free).
Select the Les Miserables show.
Select the date you want to attend.
Purchase your ticket for $52  + $8 service fee ($60 total).
Pick up your tickets at the Will Call window (I did this with my daughter for Cinderella and we had no wait time, and no problems picking up our tickets!).
A little factoid for you that I just learned. Les Mierables is the longest running musical in the world. That must mean its good.Based on the novel by Victor Hugo, this updated spectacular boasts new staging and scenery inspired by Hugo's own paintings, as it tells the epic tale of ex-convict Jean Valjean's struggle for redemption in 19th-century France.