Walmart.com currently has put together some great priced Lego Value Bundles, as low as 2 for $20. There are 5 different price points available to choose from. With each bundle, you can choose 2 lego sets from a set variety for that bundle. The variety within each bundle is awesome and combines regular Legos and Lego Duplo sets which means these can even be purchased for the little ones in your life!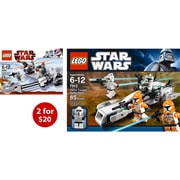 The Lego Building Sets 2 for $20 Value Bundle is a great deal and would make a great gift. Also there are quite a few sets to choose from in this bundle – your options aren't limited. You can choose from:
Lego City Camper
Lego SpongeBob SquarePants Heroic Heroes of the Deep
Lego Duplo Disney Cars Agent Mater
Lego Disney Carys Tokyo Pit Stop
Lego Disney Cars Maters Spy Zone
Lego Ninjago Skull Motorbike Play Set
Lego Bricks & More Duplo – Large Green Building Plate
Lego Star Wars – Snow Trooper Army Pack
Lego Hero Factory Fangz
Lego Hero Factory Waspix
Lego Hero Factory Raw-Jaw
Lego Star Wars Mandalorian Battle Pack
Lego Star Wars Clone Trooper Battle Pack
Lego Harry Potter The Forbidden Forest
Lego Pirates of the Caribbean The Captain's Cabin
Lego Creator – Helicopter
Lego City Police Dog Unit Play Set
There are also some higher priced bundles available (they are still a great deal considering the price level of the individual sets). These other value bundles have different sets to choose from and also have great variety and options.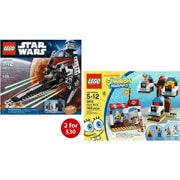 Lego Building Sets 2 for $30 Value Bundle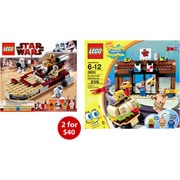 Lego Building Sets 2 for $40 Value Bundle
Lego Building Sets 2 for $50 Value Bundle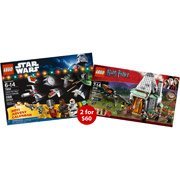 Lego Building Sets 2 for $60 Value Bundle
If you choose Ship to Store, you will receive FREE shipping, or you can pay only $0.97 to have it shipped to your home.
Don't forget that if you go through Ebates.com, you will receive 4.0% cash back on your purchase.
Thanks Happy Money Saver!