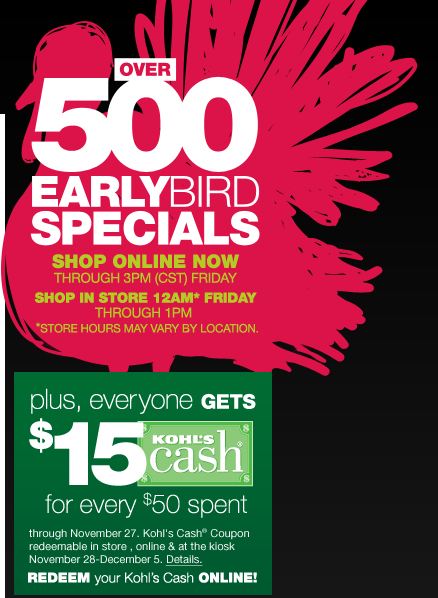 Kohl's is up and running with their Black Friday deals and they have quite a few great deals going on that we have been highlighting.
When you are shopping at Kohl's, don't forget the two coupon codes available right now:
15% off with coupon code GOBBLE15
20% off with coupon code CON20HH4
Also Kohl's is offering $15 Kohl's Cash for every $50 you spend
****************
$10 Rebate on Appliances: There have been some concerns regarding whether you can use the $10 rebate for the select kitchen appliances (crockpot, griddle & more).  Here is information from Kohls.com website that says that the $10 rebate CAN be used on purchases made online on Thanksgiving day (last night counts as Thanksgiving because the sale started at midnight cst/10pm pst). So, don't cancel your orders – you will be able to use the rebate!
*****************
Here are the highlights that we have brought to you already this evening:
For a complete look at the best Black Friday deals, be sure to look at our full Kohl's Black Friday Post.
Kohl's is offering FREE shipping with purchases of $50 or more
Don't forget that you can get 4% cash back from Ebates.com