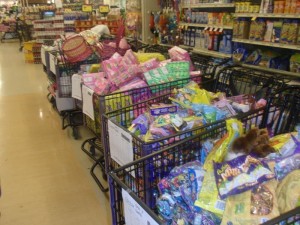 Where does the Easter Bunny's hide his left overs! Be sure to check out the clearance baskets, aisles and end caps at your local stores to find some after-season deals. You can stock up for next year (if it's non-perishable) or get creative for future events. This is a great time to stock up on candy – Hersey kisses are good for a while!
However, do watch your prices. This particular Albertson's store remarks their seasonal clearance with the manufacture's highest price and THEN marks it down. So although I was excited to see almost 10 baskets through out the store stocked with clearance items, the prices were high enough that I wasn't too thrilled with 50% off, so I'll be waiting for this to increase to 75% off clearance.
What are your favorite Easter clearance deals you're finding at your local stores?
Thanks Tara!