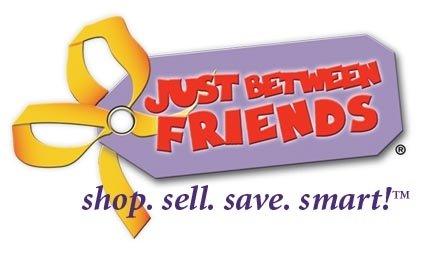 This week and weekend, the Tacoma Just Between Friends Children's Consignment sale will be taking place and it will be one of the largest of the JBF sales around – the largest sale in Washington. I was shocked to learn that they actually have 2 stories of sale items – the top floor is just all clothes & shoes and the bottom is everything else – books, toys, baby equipment, furniture and more.  They have over 700 consignors and will have sales on everything from children's gently used clothes, strollers, maternity items, baby equipment, kids furniture and more! This is such a great way to stock up on clothes and other items for your kids at a fraction of the retail cost.
Make sure to check out the Tacoma Just Between Friends Facebook page for more details and last-minute information.
We're excited as we will have a table at the Just Between Friends Tacoma Sale all weekend long, so make sure to come and find us! We'll have some fun freebies, coupons, and giveaways for you so you don't want to miss us! We'd love the chance to meet you in person!
Tacoma Just Between Friends Sale:
When:
Wednesday May 1st – 8 – 10pm – Shopping for Prime-Time Shoppers – $15 cost (limited to 100 guests)
Thursday May 2nd – 8 – 9am – Early Bird $6 admission; 9am – 12pm  – admission for first-time parents, military parents, and foster parents for $2 admission (& pre-registered); 12pm – 8pm – Open to the public with $2 admission
Friday May 3rd – 11am – 7pm – open to the public with $2 admission
Saturday May 4th – 9am – 5pm with $1 admission, 25% off sale on select items
Sunday May 5th – 8am – 2pm; Free admission, open to public – many items are half off on Sunday
Where:
Puyallup Fair & Events Center
110 9th Ave SW
Puyallup, WA 98371
FREE parking in the Gold Lot (corner of 9th & Meridian).  Enter through the Gold Gate. The Pavilion is just inside the fairgrounds.
Free Admission Pass for Thrifty NW Mom Readers: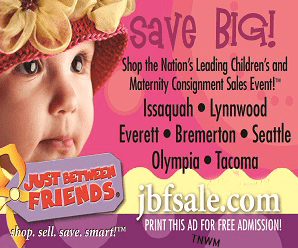 We have a special coupon for you to get FREE admission to the Everett JBF sale, as well as any of the 7 Puget Sound Just Between Friends sale locations. This coupon is not valid during the special Early Bird or Prime Time admission, but during the time of regular admission. Just print it off and bring it with you to get FREE admission and let them know that you heard about the sale on Thrifty NW Mom.