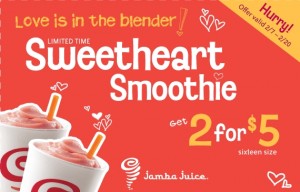 Jamba Juice has released a new printable coupon for Sweetheart Smoothies – 2 smoothies for $5. This is for the 16 oz size. Make sure you print off the coupon now to bring with you.  This coupon is valid thru 2/20/11.  Here's what the Sweetheart smoothie is: "a delicious blend of strawberries, peaches, nonfat frozen yogurt, yumberry juice & pineapple juice".
I'm a bit confused as it   says in the fine print 2 smoothies with $5 purchase (but this is not what the main part of the coupon says, so I'm thinking it's a typo). So, just a warning there – you might want to call your location first to determine what that means.
I just love Jamba Juice smoothies. :)
Thanks The Frugal Find!