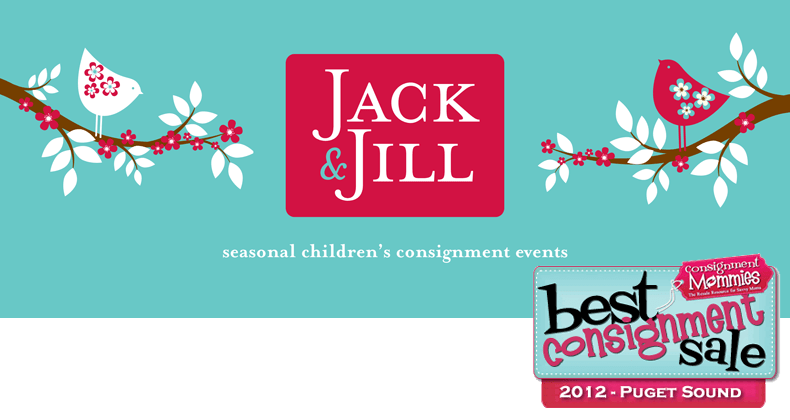 The very popular Jack & Jill Consignment Sale is back again with their Spring Consignment Sale coming this weekend, May 30th – June 1st . This is a great time to get stocked up on summer clothes for your kids and even start looking at early fall back to school clothes at significant discounts compared to retail stores.  The Jack & Jill sale is known for having very high-quality, gently used, name brand clothing items as well as furniture, toys, equipment & more. You can shop a great variety of items at a fraction of the retail cost & without having to travel to multiple stores.
The Jack & Jill consignment event will take place on Friday May 30th, Saturday May 31st & Sunday June 1st, with a pre-sale event for consignors & volunteers on Thursday May 29th, 2014. Plus there's a half price sale on Sunday 6/1 when you can find some fabulous deals!
They will be restocking items over the weekend as well with the large, popular items that always go very quickly – furniture, baby equipment & gear, stroller, toys & games – so if you can't make it till Saturday, don't worry that all the best items will be gone, since there will be many more options to choose.
The Jack & Jill Fall Consignment sale will be taking place at the Lynnwood Convention Center,  which has over 15,000 square feet of resale items. The Jack & Jill Consignment sale will be offering gently used children's clothing, shoes, toys, books, games, furniture, strollers & other baby equipment. Items range from maternity to children's items from birth – age 12.
Jack & Jill is an independently run sale, which focuses on supporting local families & mom-run businesses. They do this by offering the Made by Mom boutique vendors, as a way for you to browse around & check out some specialty goods & services handmade or offered by local moms.  There will be some new vendors as well as many favorite vendors back again this spring.
The Jack & Jill sale also supports the community by offering a baby food & diaper drive, benefiting the WestSide Baby organization. You can bring donations for their baby drive at any time during the sale. You can also get into the sale an hour early on Friday 5/30 from 11am – 1pm  with donations for the diaper drive.
The Jack & Jill Consignment sale was featured on King 5 News last year, with some great tips on how to go thru and find items to sell at consignment sales as well as how to shop the sale & what to look for at the sales. Make sure to check out that article to find out more about shopping at consignment sales.
The location for the Jack & Jill sale:
Lynnwood Convention Center:
3711 196th Street SW
Lynnwood, WA
Here is the schedule for the sale:
Thursday, May 29th : Private shopping event for Consignors and Volunteers
Friday, May 30th:  11am – 1pm Early entrance with a donation for their diaper drive benefitting the WestSide Baby organization.  Open to the public from 1 – 7pm
Saturday, May 31st: Open to the public from 9am – 5pm. (New inventory will arrive on this day)
Sunday, June 1st: Half Price Sale from 9am – 3pm
Winners Announced for the $20 Gift Certificate to Sale 
Thanks to all who participated in this giveaway! We have notified the 5 winners randomly selected:
Katelyn who said "Im hoping to find my son a rain jacket"
Theresa who said "I'm on the mailing list."
Stephanie who said "I like jack and Jill on fb"
Michelle who said I "like" the Jack & Jill Consignment Facebook page!"
Amanda who said "VERY excited to experience this! As a first time mom due in August, I am going to look for carriers, cloth diapers and some other fun necessities."
Disclosure: This is a sponsored giveaway.  $20 Gift Certificates for winners  to the Jack & Jill Consignment Sale will be given to 5 winners randomly chosen.  All opinions are 100% ours. See our disclosure statement for more details.