#IWon100 Valpak Envelopes – Check to See If You Have A $100 Check Inside!
This post may contain affiliate links and I may be compensated for this post. Please read our disclosure policy here.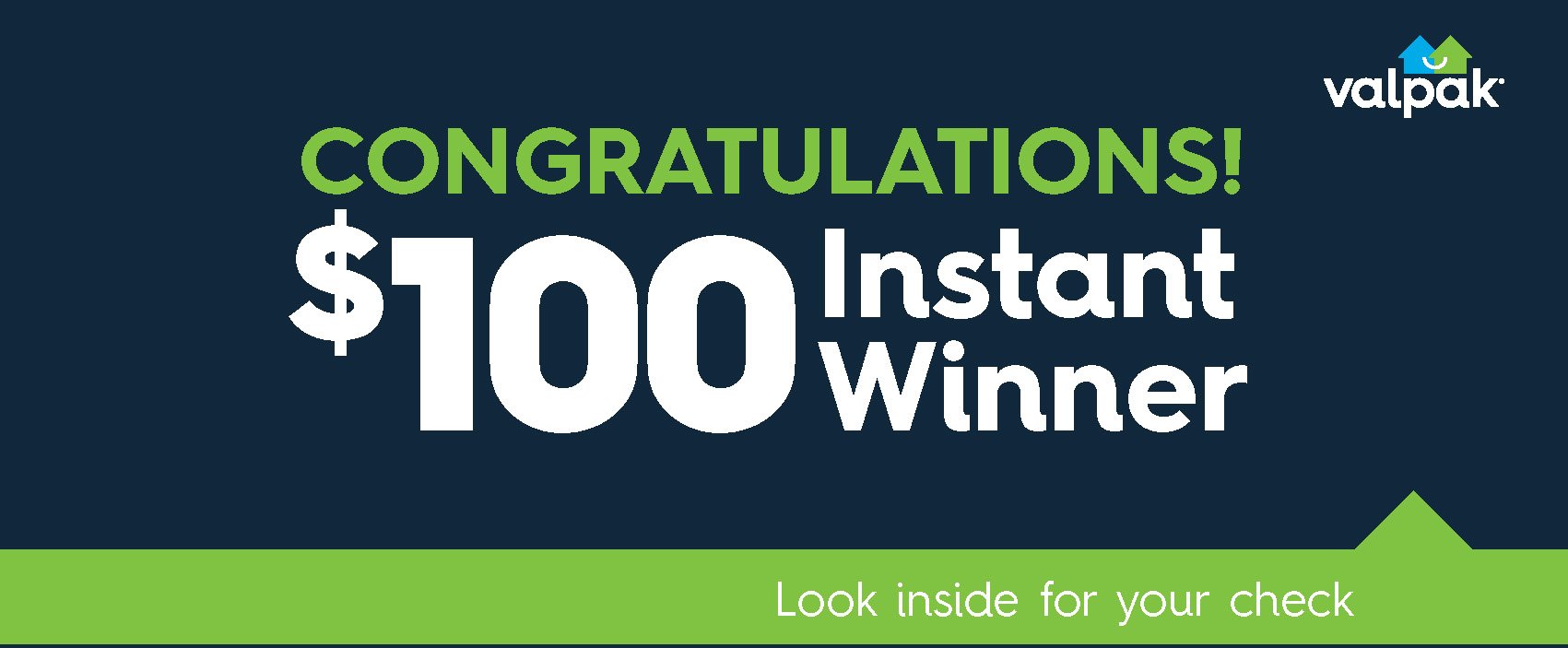 #IWon100 – Check your Valpak Blue Envelope for a $100 Check!
Valpak is celebrating 50 years, and as part of the celebration they are giving away $100 in many of the blue Valpak Envelopes that come in the mail. Be sure to check your Valpak envelope, as right now they are running a promotion and they are including real $100 checks in random envelopes each month. How great would that be to open your envelope and find $100 waiting for you!
If you open your envelope and find a "Congratulation $100 Instant Winner" wrap in there (like the image pictured above), that means you are a winner. There will be $100 check made out to cash inside of that.
The Valpak envelops looks similar to the one pictured above, if you have not opened one in the past. I love to go through mine when they come, because I love to find out what coupons are included for my local businesses. I often find buy one get one free coupons for local restaurants, or discounts on oil changes, or other things I am doing monthly. So, its a great way to save money on things I am doing anyway, and support my local businesses. Adding the possibility that I might win $100 just for opening it, makes it even more exciting.
The $100 checks have no strings attached either. If you find one in one of your blue Valpak envelopes, simply deposit it in your bank account or cash it, and the $100 should be available to you immediately. The checks are included in Valpak mailers nationwide.
I am checking my envelopes monthly. If I find one of those $100 checks, I am choosing one of the restaurant coupons in the envelope and taking everyone out for a nice dinner, just to spend time connecting with each other, as well as supporting my local small businesses. What do you plan to do if you find one in your Valpak envelope?
Be sure to let us know if you find one of the $100 checks in your Valpak envelope.
Find all of the details on the giveaway in their press release here.
Disclosure: this post is sponsored by Valpak. All opinions are 100% my own. See our disclosure policy for more details.