Ikea Seattle – Organization Deals, Kids Eat Free & More (+ Tips For Shopping Ikea)!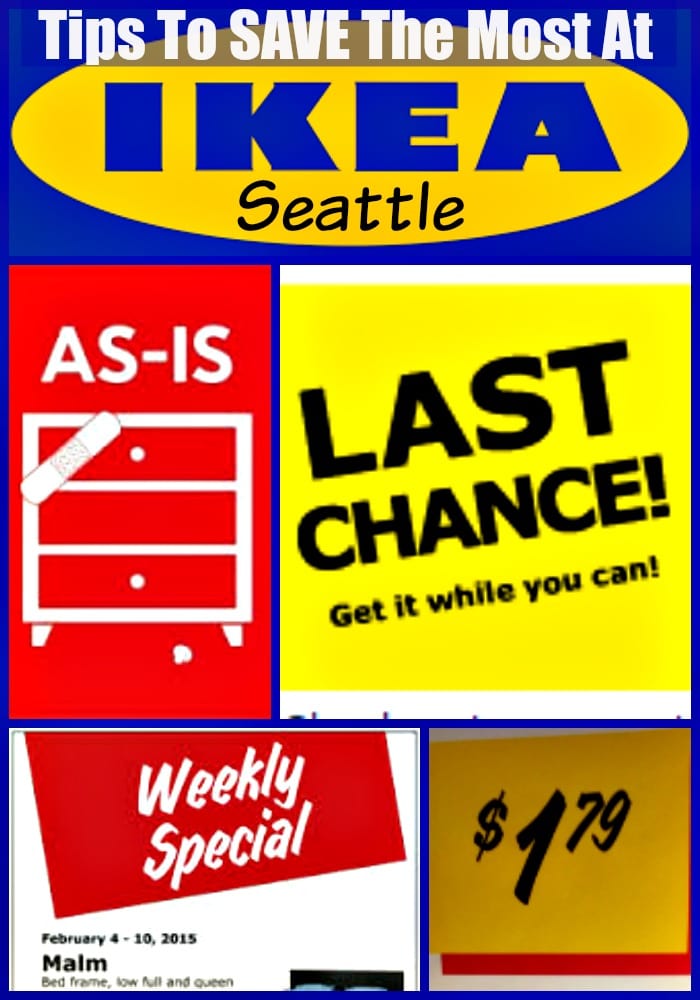 I visited our local Ikea Seattle (actually located in Renton) last Tuesday to get some organizing pieces for my house. I found a number of really affordable deals I thought you all might be interested in.
Ikea is a great option if you are on a budget, and looking for affordable items for your house. If you have not been to Ikea Seattle before (or really any Ikea for that matter), prices are kept low by having you load all the items up (pick them out from a wharehouse) and then put them together yourself. If you are looking for a bargain, it can be a great place to start looking.  Plus, be sure to scroll all the way down, as we have some times on making the most out of your Ikea shopping trip too!
Some of the finds we found at Ikea Seattle last week: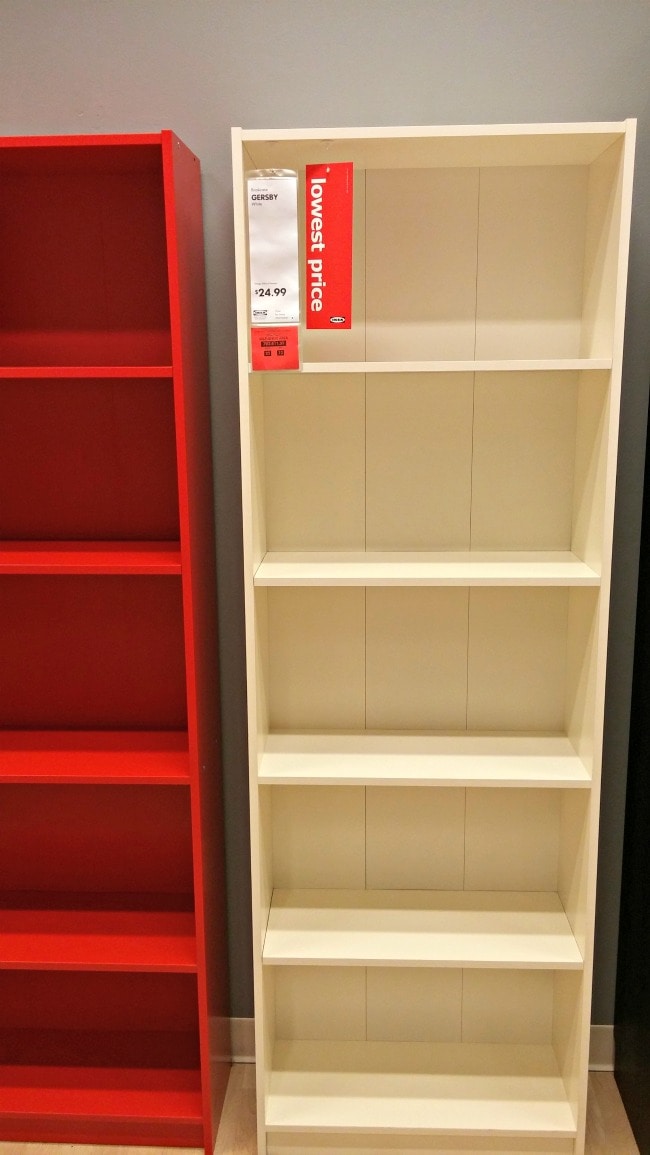 These cute Ikea Bookshelves are just $25!
They come in a cream and red. They are smaller then your standard bookshelf (they  are not much taller then me, and I am about 5'6″ tall), so perfect for smaller spaces. I got a set for my office area, and they are perfect.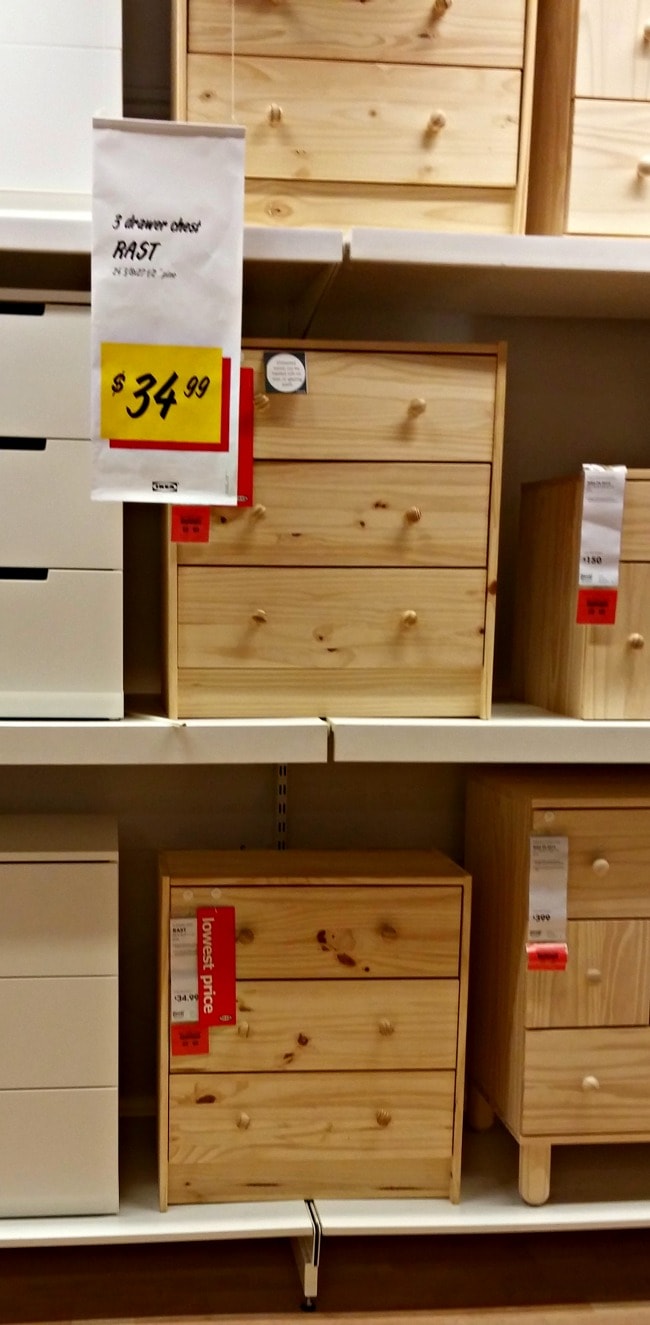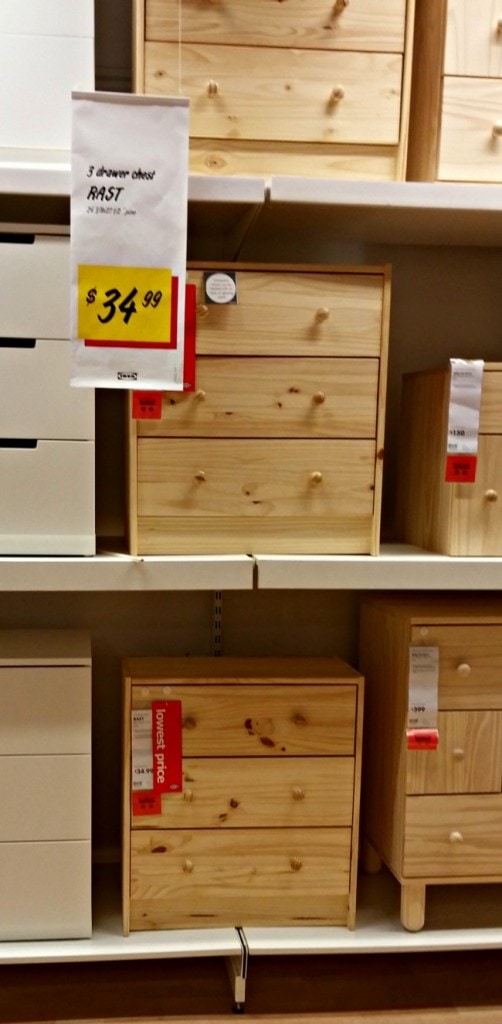 These 3 drawer natural dressers are just $34.99!
I bought two of these a while back for my girls room (you can see them in their room in this post here), and they have held up just fine for us (the bottom of the drawers are lined with particle board, so they may not last forever, but for the price they have been perfect for the kids room). Since they are unfinished wood, you could also easily paint them up to match any decor.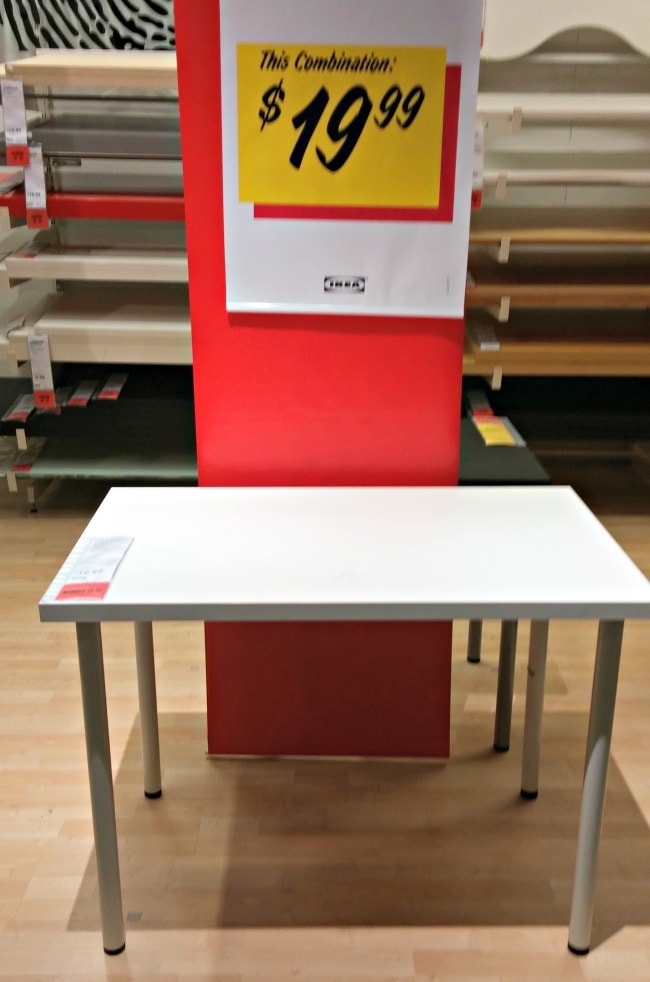 Ikea Desk $19.99
If you are looking at putting in a workspace on a budget, these Ikea desks / small tables are just $19.99. There were different colors and finishes to choose from too (prices will vary on those).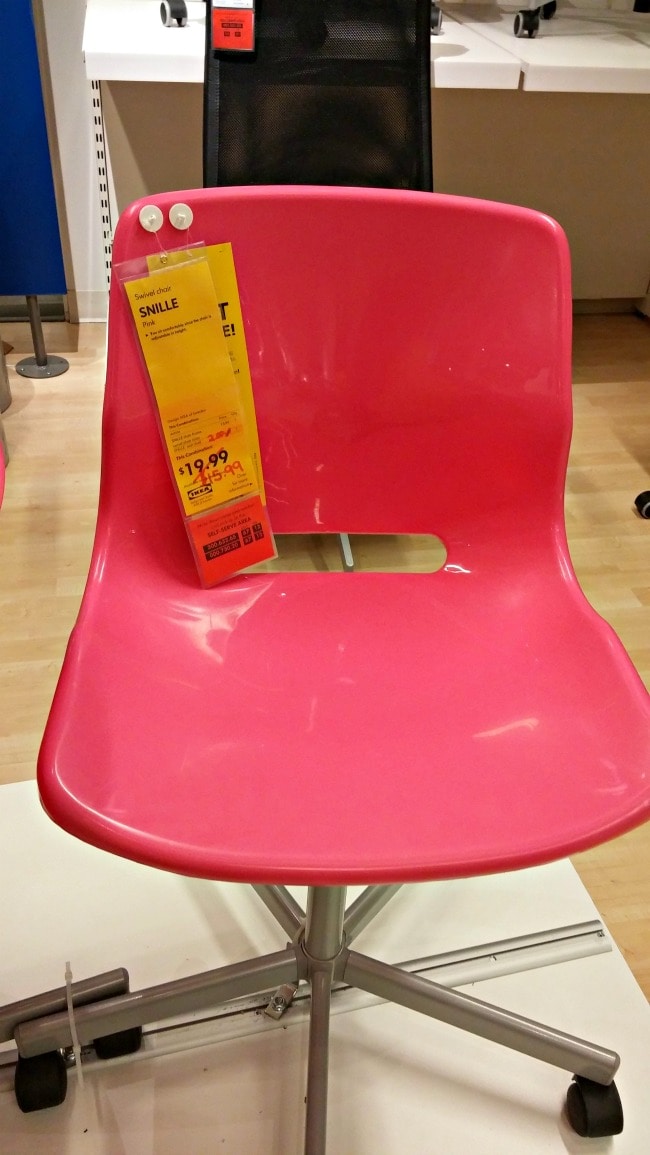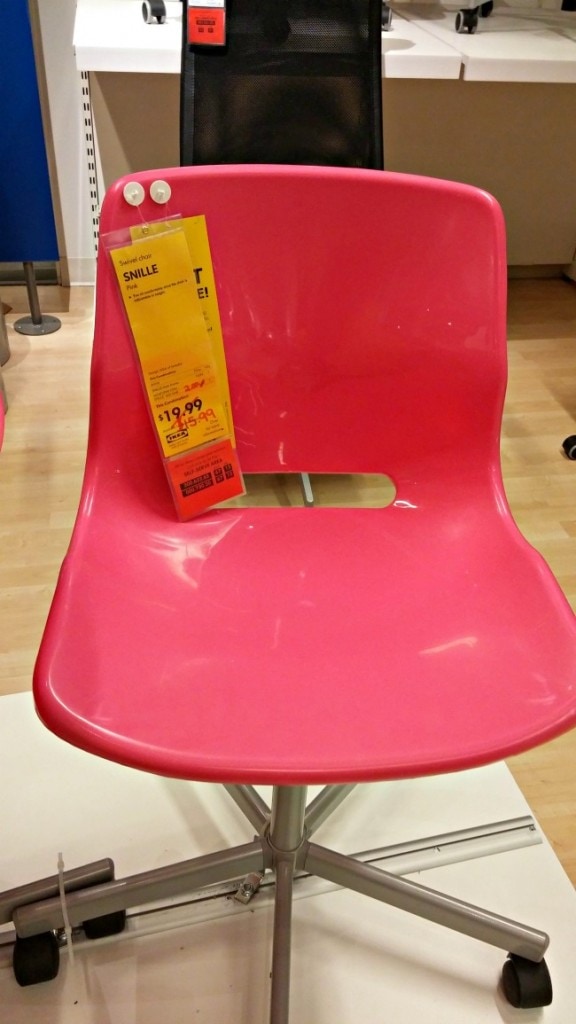 Ikea office chairs $15.99
Plus, these desk chairs are just $15.99. That means you could get a desk and chair for just over $35!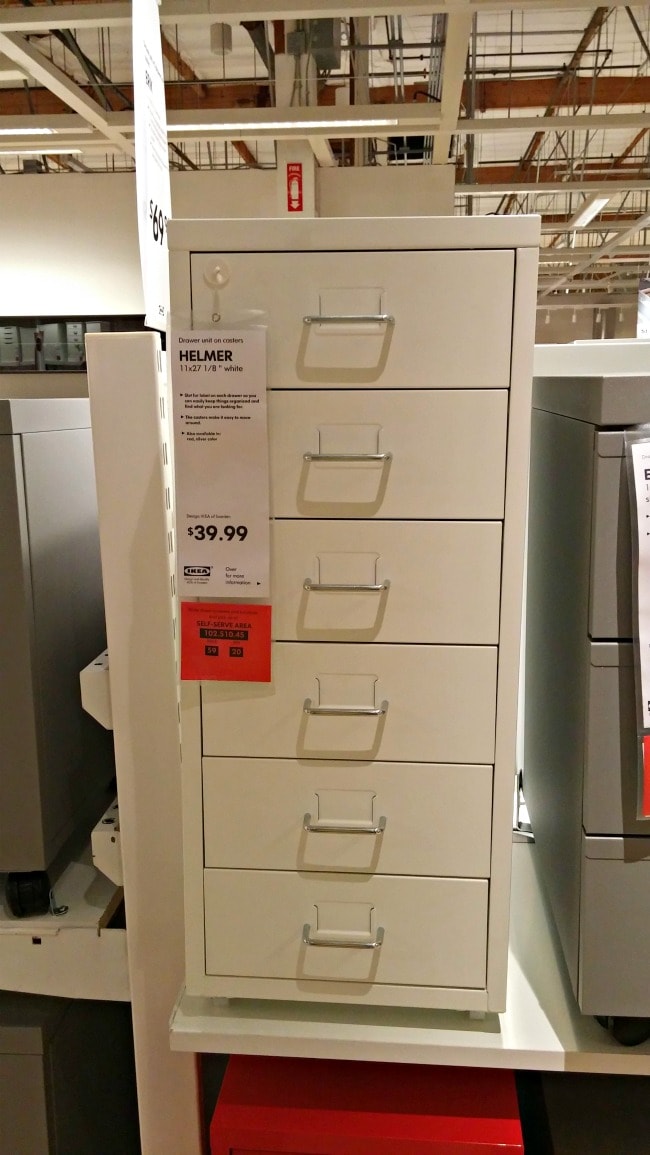 Storage cabinet $39.99
This multi drawer organizer is $39.99. This seemed like a pretty good price, compared to what I have seen similar pieces selling for elsewhere.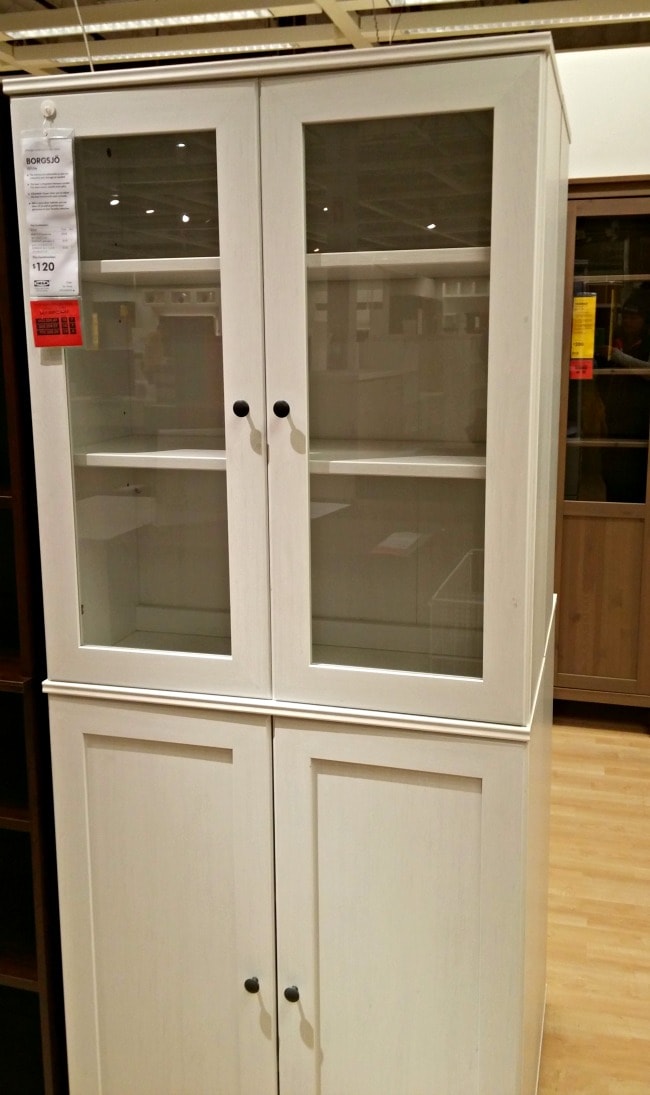 Hutch for $120
If your looking for a more substantial piece, these hutches are just $120. I have been looking around at hutches for some time now, and can tell you this is a very good price for a hutch!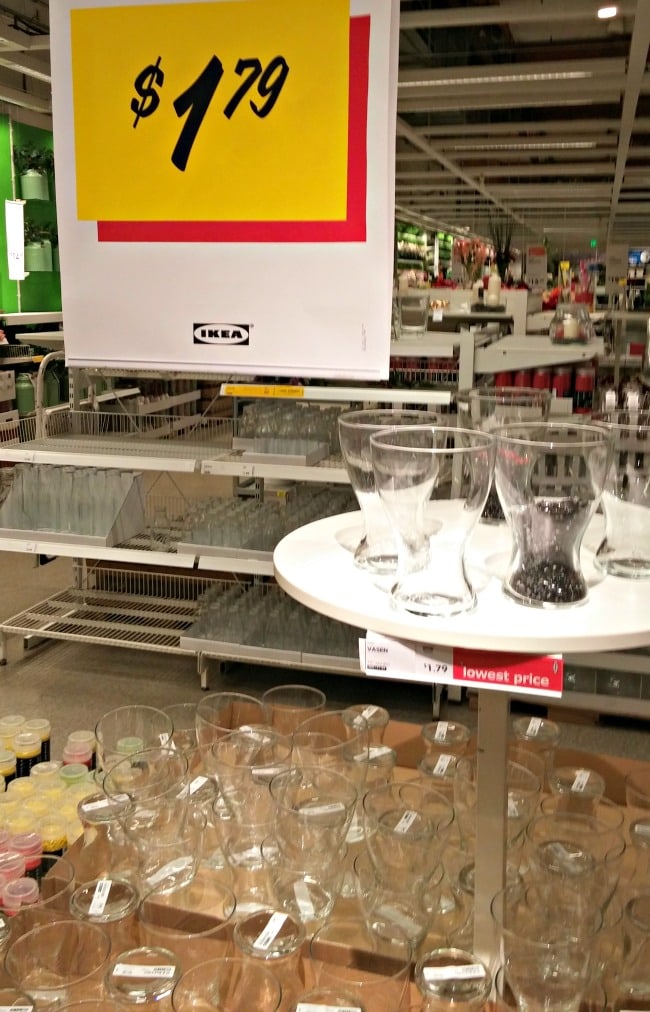 Then, there were a number of items that you can use to freshen up your decor for just a few dollars. The vases shown above are $1.79!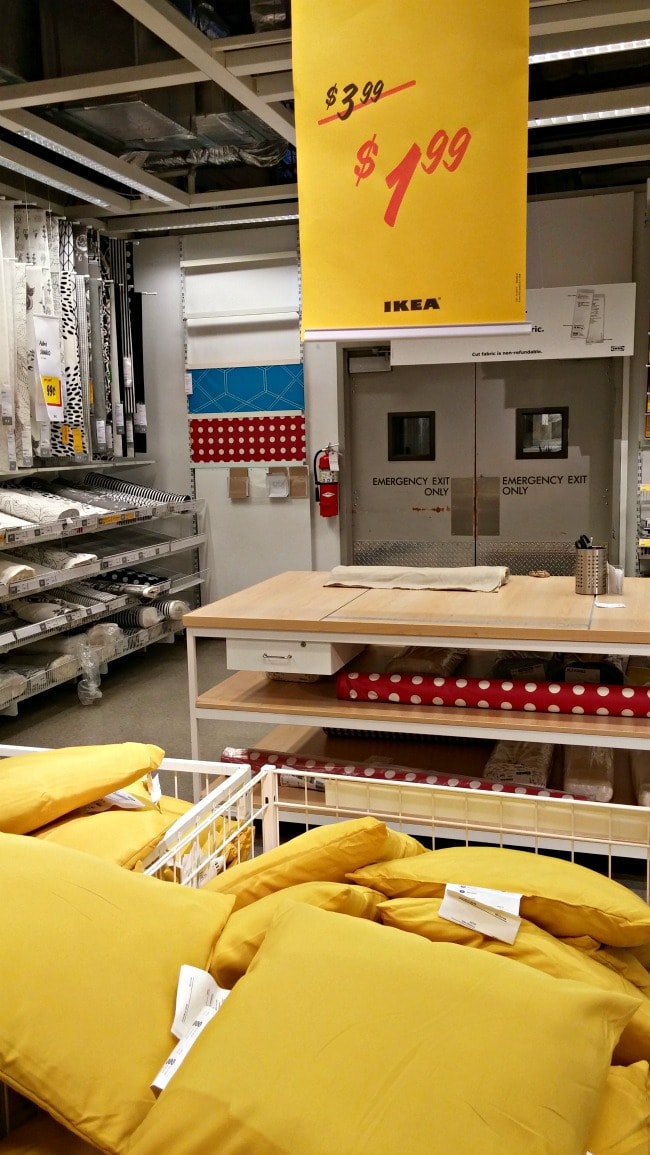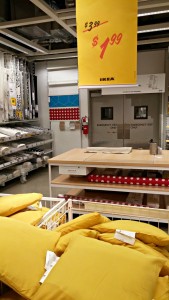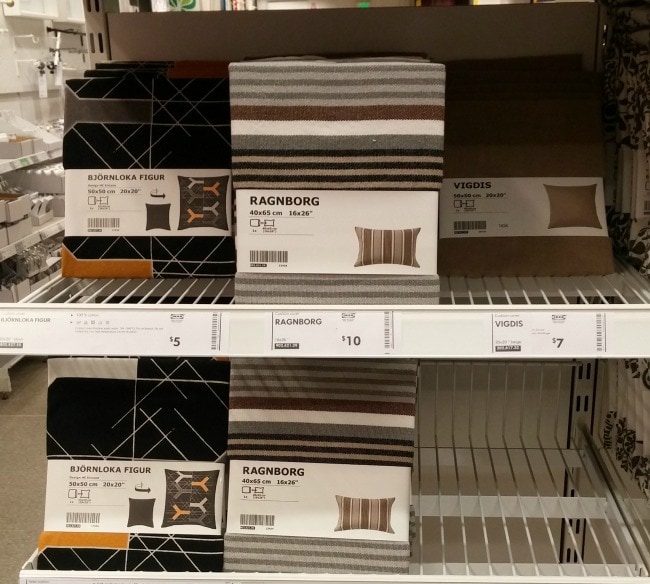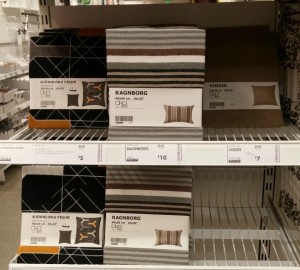 These throw pillows were just$1.99 ea! Now, the throw pillows were not the fluffiest, but consider buying two (for $3.98 total) and then putting them in a pillow cover. I found many options for under $10 at Ikea (starting at $5), or you can get these starting at around $5 on Amazon here and here. You could throw together some cute new throw pillows for under $10 this way!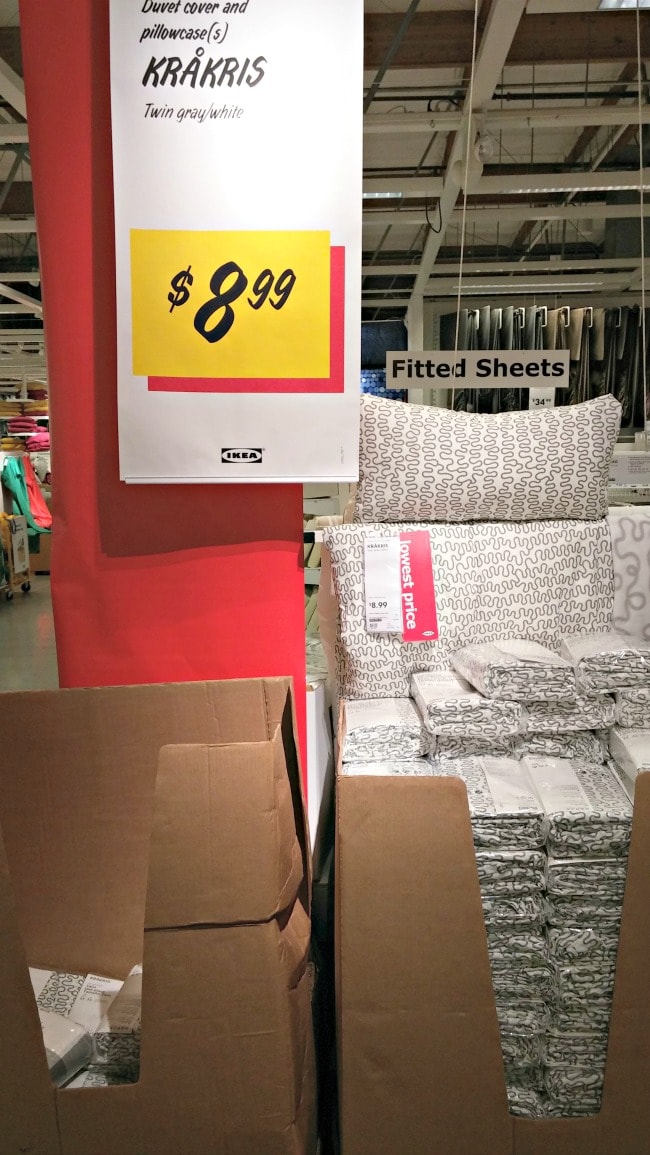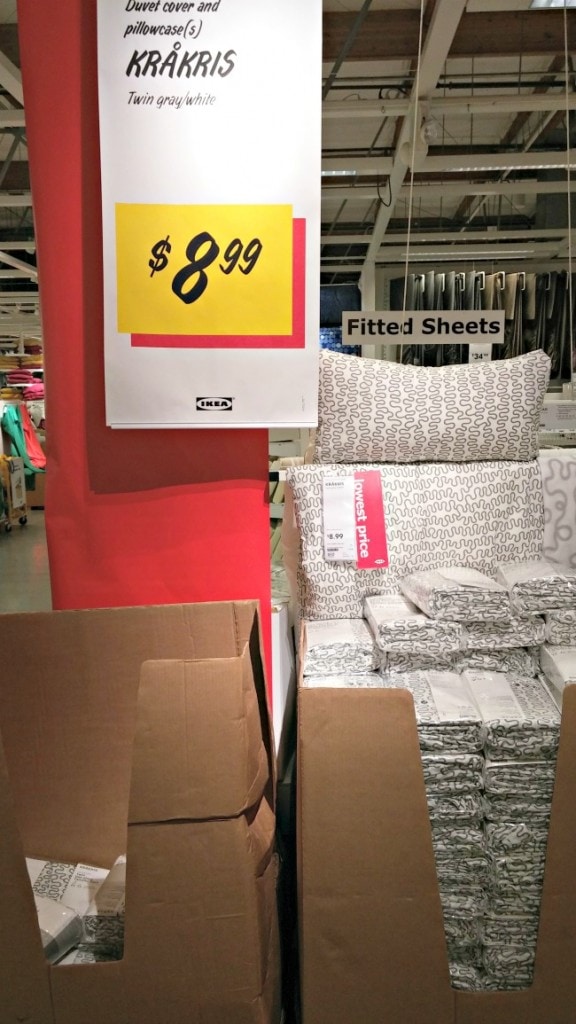 How about a Duvet cover and Pillow Cases for just $8.99 (Twin Sizes)!
Plus, if you join the Ikea Family Program (see below for more details on that), you can get the following deals this month: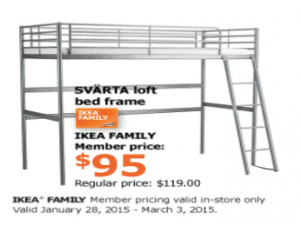 Get an Ikea Loft Bed for just $95 this month!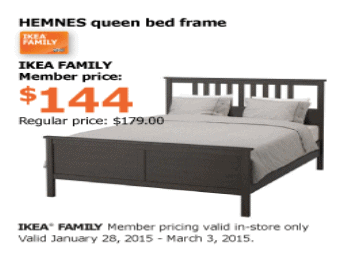 Or a queen bed frame for $144!
Plus, you might want to plan a trip out during the Ikea As Is Garage Sale, where you will find more products out in the covered garage parking area, with nice discounts! The Ikea Garage Sale will run Friday, February 13 – Monday, February 16 10:00am-6:00pm.
Tips for shopping Ikea Seattle:
*Sign up for Ikea Family program (a free store loyalty program) – they offer monthly discounts and offers (see the current offers here), free coffee or hot tea in the restaurant, 90 day price protection and an extra 30 minutes in the kids play area (otherwise kids can play for an hour, which goes fast for them – and you when you're busy shopping).
*You can make it a shopping and  dinner trip by taking advantage of the food specials they have in the Ikea Cafe. Plus, at Ikea Seattle, kids eat FREE on Tuesdays. I took my two youngest with me, and got two kids meals and a bowl of soup for me and we ate for around $2 total! Other cafe deal highlights include:
Free Breakfast on Monday for all for all in the mornings.
$3.99 Roast Chicken night
$3.99 Fish and Chips night
In addition to the cafe, they have a walk up bistro at checkout where you can get lattes for $1, hot dogs for $.50 and more!
*Bring your younger kids and let them play in the Ikea Playroom for an hour (or possibly an hour and half for Ikea Family Members), while you shop. We have an older review of their playroom here if you want to get an idea of what its like. My girls love it in there! (Children between the heights of 37″ – 54″ are welcome to visit once per day for up to 1 hour. For hygienic reasons, children must be completely potty trained and capable of using the restroom without assistance.)
Plus if you have little ones, did you know that Ikea provides Diapers, upon request (if you find yourself in need) and bibs, bottle warming and baby food should be available in their Restaurant, if families need.
*Check the activity schedule before deciding when to go. They run special weekly sales each month, plus there are various kids events (like Kids week this month, or craft days) that you might want to plan your visit around.
*Shop the "Ikea As Is" Section. This area is near the checkout area at Ikea and has items that have been returned and may be chipped, etc. There are often good deals to be had here, you just have to be prepared to get the already assembled items to your car and have room to transport them when you shop this area.
*Plan your shopping trip during non-peak times. Weekends at Ikea can get a little hectic, so if you are able to visit during the weekend I highly recommend that!
*Bring your own bags. Ikea will provide you carts to shop with, and there are reusable bags you can use, but will have to leave at checkout counter. They do have bags available for purchase, but if you want something other then a shopping cart to get your items to your car (or to hold in your car) you will want to bring your own reusable bags.
*Bring your phone. I take pictures of the things I want as I am shopping through Ikea. I will write their number and location down as well as price (they provide pencils and order sheets to do this at Ikea). That way when I get to the wharehouse to start picking my items out, I can go through my images on my phone to decide what I really need.  Ikea is so large, so it can be overwhelming to remember everything you looked at, and this trick helps me to get what I really want at the end of getting through the whole store (and leads to less buyers remorse).
Do the same thing with your cart. Pause in the wharehouse before you go through checkout, and go through every item you have put in your cart, and make sure you really want that item before heading to checkout.
Ikea is designed to have you walk through each department (there are short cuts), so you are more likely to grab more items then you intended to. That is why this last step, to pause and evaluate what you have, is really important when you are shopping Ikea on a budget!
*Ikea also has an app you can use to download their catalog and bookmark items you are interested in ahead of time. You can also access current offers, get maps of your store, and create shopping lists. All of these are tools that will help you plan better (and thus hopefully spend more wisely).
*Think Outside the Box when shopping Ikea. There are many sites that will show you how to make Ikea items look expensive, or re-purpose them. Just search on "Ikea Hacks" for some inspiration. Ikea has many items that are very affordable, so they are a great starting point, but you don't have to use them as is. I especially recommend this approach if you are buying more then one Ikea piece (so your house does not end up looking like an Ikea showroom, unless that is the look you are going for).
What are your best tips for shopping Ikea?