IKEA: Bring Your Own Friend Day on January 14th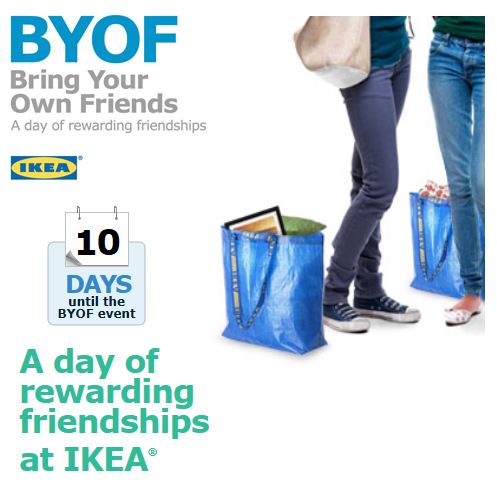 On January 14th, IKEA will be hosting BYOF Day (Bring Your Own Friend).  There will be a number of fun events happening on this day in stores around the country. You can learn more about this event & print off coupons on the Ikea Facebook page. If you send customized invites to friends via the Facebook page, Ikea will donate $1 to Save the Children, up to $50,000.
Bring Your Own Friend Day :
FREE breakfast and two for one crepes for lunch
$1000 in gift card giveaways at eack IKEA store
Free samples & recipe cards from the Swedish Food Market
FREE IKEA blue bags
FREE customized design advice with an Ikea expert
Complimentary massages
Here's a schedule of activities for the Seattle location. If you aren't in the Seattle area, be sure to check out the events at the location closest to you.