(Such serious faces – they were ready to dive into the food and a little annoyed with me for making them pose for a photo first!)
IHOP has recently released three new pancake flavors, and my family and I ran out to try these out. We want to give one of you a $50 a gift card so your family can try them too (giveaway details below)!
I have a household of breakfast lovers, we eat breakfast foods for breakfast, lunch and dinner, so trying out the new IHOP pancakes was right up our alley. We were particularly excited because they have a new Red Velvet flavor that looked yummy, and let me tell you it did not disappoint!
We visited IHOP for dinner, but ordered breakfast. It was fun! Our local IHOP had a special menu to celebrate their new flavors: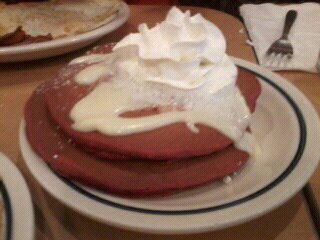 Red Velvet Pancakes 2 rich and chocolaty red velvet pancakes, drizzled with cream cheese icing, a dusting of powdered sugar and crowned with whipped topping.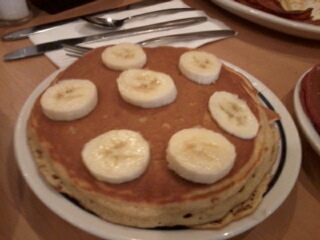 Whole Wheat Pancakes 2 slightly sweet and fluffy whole wheat pancakes topped with fresh banana slices.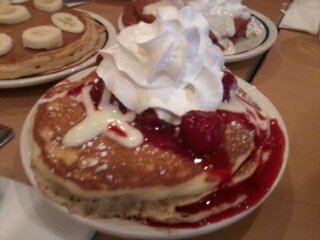 Sweet Strawberry Pancakes 2 fluffy buttermilk pancakes topped with cool strawberries in glaze, drizzled with cream cheese icing and crowned with whipped topping.
The new menu included a combo option to get 2 eggs, 2 sausage links, 2 bacon strips, hash browns and a stack of pancakes for $8.29 (may be a local price – but we thought it was a great deal)! You could also get just the hashbrows and eggs with pancake stack for just $5.99 or other varieties (again, may be a local price).
In addition to the special menu, Kids Eat Free each day from 4pm to 10pm. You can also join the Pancake Revolution (their email club) and get a FREE meal upon joining (takes approx. a day to get your coupon, so sign up early), and a free meal on your birthday and one year anniversary!
We have five in our family so my husband, son and I all ordered one of the breakfast combos, and my two girls ate for FREE! We each decided to try a new pancake flavor, and put them in the middle of the table to share. It was a fun way to have a family meal.
I think we all agreed that the Red Velvet were by far our favorite! They were delicious. They are more like a dessert (on the sweet side), but really good. They melted in your mouth (well that is the two bites I got, before the hubbie downed the rest of the stack!). There was no need to add extra syrup to this stack, we just ate them as they came. We saved the pancakes for the end of the meal, so it worked out perfect.
My husband and I both agreed that we would probably prefer the the Whole Wheat Banana stack for breakfast. They were much less sweet, and had a nice banana flavor. These ones allowed us to try out the mini syrup bar they leave at your table. We added some Pecan Butter syrup to these, and they were good. My least favorite stack was the strawberry stack, but in all fairness they were also very sweet and so had to compete with the Red Velvet ones at our table. My 5 year old liked the Strawberry ones best though, and again this stack needed no extra syrup.
All in all, we had a great time tasting all of the flavors, and it was a bargain for my family with the kids eating free, and meal options starting at $5.99 for these stacks with a couple of sides!
Giveaway – $50 IHOP Gift Card
We want one of you to enjoy these delicious pancakes too, so will be giving away a $50 IHOP Gift Card! My family of 5 easily ate off of $50, including milk shakes, tax and tip!
This giveaway will end on Monday, 7/16, at 9pm pst.
The winners will be drawn using "And the Winner Is" plugin and announced on the blog.  I will also email the winners. The winners will have 48 hours to contact me, otherwise a new winner will be drawn. US residents only & you must be 18 yrs or older to enter the giveaway. This giveaway is not affiliated with Facebook in any way.
Here's how to enter this giveaway::
1st Entry (required entry): Comment below and let us know which new pancake flavor you are most excited to try at IHOP!
Extra Entries : (make sure these are all separate comments, with a comment for each entry)
2) Subscribe to the Thrifty NW Mom feed via a reader of your choice or email (must be verified)
3) Leave a comment here saying you "like" the Thrifty NW Mom Facebook page (on this post – not on Facebook! )
4) Leave a comment here saying you "like" the IHOP Facebook page.
Disclosure: IHOP provided us a $50 gift card to sample their new pancake flavors, and the $50 gift card that will be given to  a Thrifty NW Mom winner randomly chosen.  All opinions are 100% mine. See our disclosure policy  for more details.