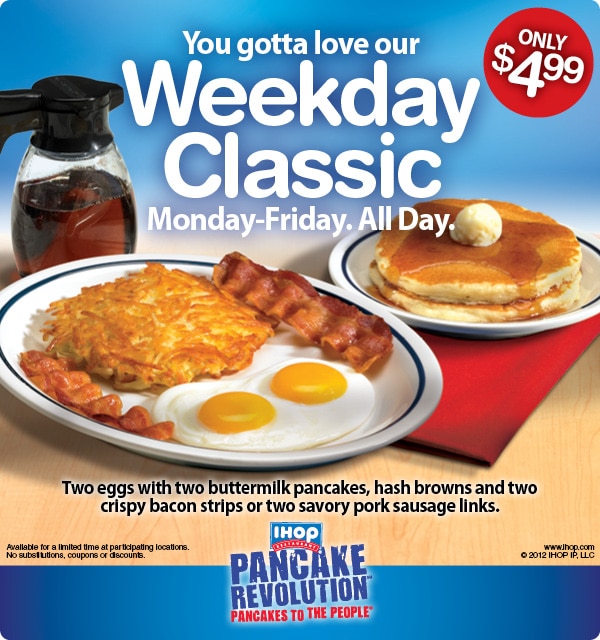 Looking to go out for an affordable meal for the family? How about breakfast at IHop all day! I just got this email from them, advertising a $4.99 Weekday Classic Breakfast. Its available Monday through Friday, all day. It includes:
Two eggs
Two buttermilk pancakes
Hashbrowns
and two strips of bacon or two pieces of sausage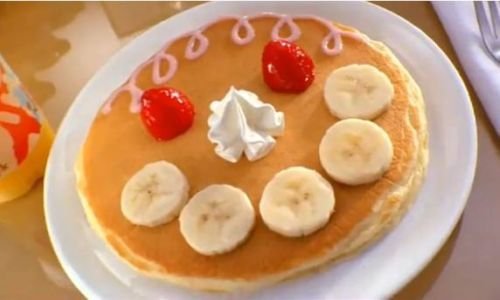 In addition to this weekday special, Kids Eat Free each day from 4pm to 10pm.
**Note – you may NOT be able to use the Kids Eat Free special with this deal, since many locations will not allow you to order 'specials' and qualify for the Kids Eat Free deal. You will want to check with your store ahead of time, if you plan to try to use both of these deals at the same meal. Thanks Amy and Jamy!
You can also join the Pancake Revolution (their email club) and get a FREE meal upon joining (takes approx. a day to get your coupon, so sign up early), and a free meal on your birthday and one year anniversary! (note – the $4.99 special above says that you can not use it with any coupons, so you may not be able to use this coupon if your party orders the $4.99 meal, depends on how your restaurant interprets that).