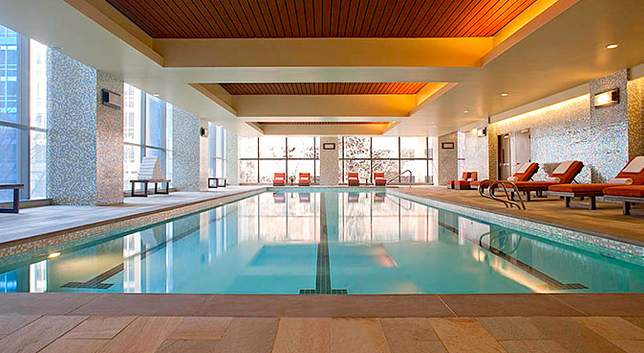 WOW! Here's a great way to enjoy a getaway while soaking up Seattle. Right now Sniqueaway is offering rooms for as low as $99.00 a night! This Eco Friendly Hotel will wow you with it's lush amenities, located in a central spot in Seattle. As the first LEED Certified Hotel in Seattle, you will be staying in a chic and contemporary hotel that is earth friendly.  Enjoy shopping at Pike Place Market, the Theater District and the flagship Nordstrom store all in walking distance of Hyatt at Olive 8. There is a valet parking fee of $43 per night.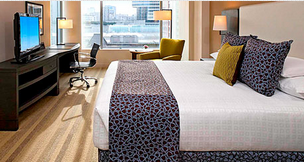 Amenities Included:
Urbane Restaurant & Bar
Urbane Market coffee bar and wine bar
Located in downtown Seattle's Theatre District
Indoor, Seattle-view pool (one of our readers said that they play underwater classical music in their pool!!)
Elaia Spa
24-hour fitness center
Babysitting services
Eco-friendly products and practices
In-room dining
Concierge services
Policies:
Final price reflects room charges and taxes per room per night.
Maximum occupancy is 2 adults and 1 child in Deluxe King Rooms and 2 adults and 2 children in Deluxe 2-Queens Rooms.
Rates quoted are for up to 2 people.
Children ages 10 and under stay at no charge in room accompanied by an adult when using existing bedding.
Children are allowed, but guests must be at least 21 to check in.
Check-in: 4:00PM
Checkout: 12:00PM
Wired and wireless Internet access is available for a cost of $9.99 per day; fee will be collected at the property. Please contact hotel for more information.
Rollaway beds are available in Deluxe King Rooms for $15 per night; fee will be collected at the property.
This is a non-smoking property.
Pets are not allowed.
Valet parking is available for $43 per night.
Please contact [email protected] for information about accessibility options.
There may be additional charges for some services and activities mentioned. Additional fees will be incurred at the property directly. Please contact the property for details.
Fees for additional services, activities and guests are subject to tax. Please contact the property for more information.
This booking is final and cannot be changed, refunded, exchanged, canceled or transferred to another party.