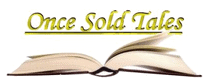 Sadly, the Once Sold Tales bookstore outlet in Kent is closing down. I've never been myself, but have heard great things about this bookstore outlet. They will be closing at the end of May and they have 1/2 million books left to sell! There is over 30,000 square feet of bookshelves! Wow!
If you'd like to see what they have ahead of time instead of browsing ALL those bookshelves – you can head to the Once Sold Tales website, browse & add the books to your cart – then print out the list. It sounds like you can also buy books through the website, but it looks like you'll pay higher prices on those rather than the ones at the outlet location.  It looks like they are open from 9am – 9pm.
Here are the prices of the books for sale:
$1 – Paperbacks
$2 – Hardcovers
$1.50/lb – Children's Books
Here's the address:
Once Sold Tales Bookstore Outlet
22442 72nd Ave S
Kent, WA  98032
Thanks FB Fan Susan!