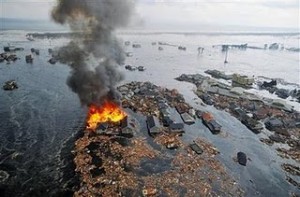 *This post will stay at the top of the page for a few days – scroll down to see the most recent posts.
One week ago today, Japan was hit with a devastating earthquake & tsunami, with many lives lost & widespread destruction along the coastline.  Not only that, but they are still facing a nuclear crisis as a result of the substantial earthquake. It has been so heart-breaking to watch the video clips, see the photos of all of the devastation that the tsunami left in its wake & hear the stories of survivors.
The most important thing we can all do for all of those impacted by this tragedy  is to continually be lifting them up in prayer.   Japan has a special place in my heart as we have had several exchange students from Japan over the years (one student as recently as 3 years ago – thank goodness I heard from a friend on Facebook that he & his family are safe).  My dad also was stationed at Misawa Naval Base when I was a baby (we lived there about 6 months) & we  have family friends currently stationed at a different navy base in Japan.  So, this tragedy has been heavy on my heart this last week & I've been praying about a way that I can use this blog to try to make a difference & encourage others to do the same.
I created Thrifty NW Mom as a way to share the many ways you can stretch your budgets & save your family money in all aspects of life.  But, my ultimate goal for this site is to encourage you to use those savings & find ways to give freely & generously.  I know that these are tough economic times and it is hard for many to even be able to think about giving, when you're struggling to support your own families. However, I've listed below a number of different ways that you could give to help the people of Japan pull themselves thru this tragedy. It might be something as simple as donating some of your Swagbucks to the Japan relief fund or using Groupon or Living Social credit to donate money to a relief organization. Or you might be able to give to one of the organizations that I listed as some of my favorite relief organizations.
Ways to Donate to Relief Efforts:
*American Red Cross – Text the messsage: REDCROSS to number 90999 and this will instantly donate $10 to the Japanese relief effort.  Or you can go online to the Red Cross & donate a specific amount. Charges will appear on your wireless bill or be deducted from pre-paid charges.
*Salvation Army – Text the words "Japan" or "Quake" to 80888 to make a $10 donation. Make sure to respond "yes" to the thank-you message that you will receive, in order for your donation to go through.  You can also make a donation online to the Salvation Army's relief efforts in Japan.
*World Vision – This is a relief organization based out of Federal Way, WA, which supports children & their families, providing life-saving supplies such as food, clean water, medical supplies & shelter to survivors.  Our church has partnered with World Vision for a number of years. You can text 4JAPAN or 4TSUNAMI to 20222 to donate $10 to World Vision's relief efforts. You also can donate online to their Earthquake & Tsunami relief efforts.
*Samaritan's Purse – This is the same organization which operates Operation Christmas Child in the fall.  It is led by Franklin Graham, son of Billy Graham. They are working in the devastated coastal area around Sendai, delivering relief supplies to survivors in that area.
*Swagbucks -Swagbucks is offering an opportunity where you can donate your swagbucks to go towards a cash donation to the All Hands Volunteers organization (an organization which provides hands-on relief to survivors)
*Living Social – Living Social will match your $5 donation & double it to $10 for the Red Cross Japan Earthquake & Pacific Tsunami Fund
*Groupon – Donate $5, $10 or $25 to support International Medical Corps' Relief Efforts in Japan & other affected areas
*Voskos Greek Yogurt – Head on over and "like" the Voskos Greek Yogurt Facebook page. Then make sure to "like" this specific status update.  For every "like" on the Japan relief status update that they receive, they will donate $1 to a Japan Earthquake relief fund.
*AViiQ – Head on over to the AViiQ Facebook page & "like' the page. For every like they receive on their  page , they will donate $1 in your name to the Red Cross. They will be giving a minimum of $5000 to the Red Cross. This is a company that makes laptop stands & USB charging stations.
*American Airlines – They are offering an incentive for frequent flyers wanting to donate to the Japan Earthquake/Relief efforts thru the Red Cross. With a minimum $5o donation to the Red Cross, you can earn a one-time reward of 250 AAdvantage bonus miles and a minimum $100 donation, you'll earn a one-time reward of 500 AAdvantage bonus miles thru American Airlines. This offer is available thru April 15, 2011.
Here are some ways that businesses are supporting families with loved ones in Japan:
*AT&T – They are offering FREE wireless calls & text messages for the rest of the month of March from the US to Japan. Calls & texts as far back as Friday March 11th will also be included in this offer. Residential customers with a land-line are also eligible for up to 60 minutes of FREE calls from the US to Japan from March 11th – March 31.  (Not available for pre-paid cell phones)
*Verizon – Offering FREE wireless calls, texts & multimedia messages from the US to Japan from March 11th – April 10th. They are also offering FREE minutes between a US land-line phone to Japan. Prepaid card charges will be waived as well during this time period for calls from the US to Japan.
An Easy Way to Help:
I would like to use the power of the community here at Thrifty NW Mom to contribute to the Japan earthquake & tsunami relief effort.  I will be contributing $1 for every comment, Facebook comment & blog to link-up to this post. We will contribute up to $150 based on the number of comments & links to World Vision's Japan relief efforts.
If you are a blogger & have blogged about ways to support the Japan relief efforts, please link up in the Mister Linky below.  Your link must be a direct link to that specific post (not your main blog page). You'll also find a number of other bloggers who are offering a similar way to contribute – just head to Penny Pinchin Mom for a complete list of the bloggers participating.