How To Save On Summer Travel – A NW Savings Make-Over!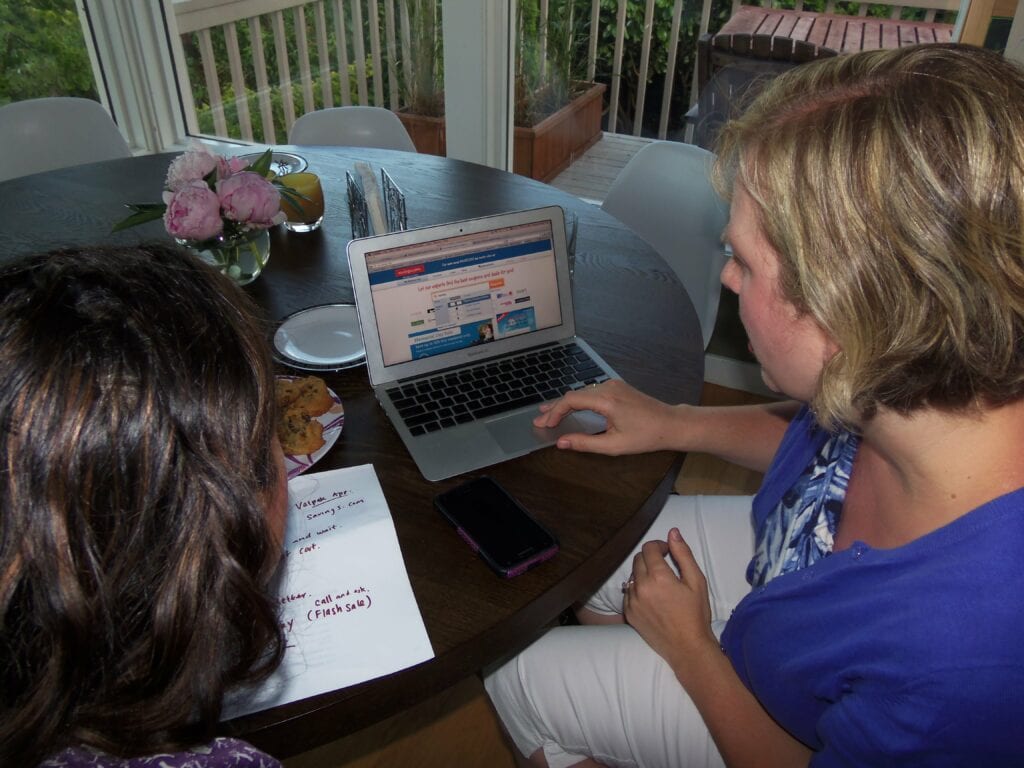 Jen and I had the pleasure of meeting with Terumi, of An Emerald City Life, recently and we talked travel and savings  as we teamed up with Savings.com and Valpak for a travel "Savings Make-Over".  Besides being lots of fun, we also were able to compile this big list of summer travel savings tips  and I shared a few of these tips during a segment on the King 5 Morning show last Wednesday; however, we wanted to share our full list of how to save on summer travel with you.  Make sure to check out Terumi's blog, too, as she shares about her frequent travels around the Northwest with their young boys and you'll find some great tips!
Save Money On Airfare 
Once you know travel is in your future, sign up for free fare alerts on sites like Kayak.com, AirfareWatchdog.com and CheapAir.com. Enter your route and you'll receive emails when ticket prices drop.  Southwest is not included in the travel aggregator sites, so you'll need to search their website directly for fares.
If you are flying into an area that has more then one airport check out GetGoing.com. You can use their Pick Two Get One option to save 40% off your flights. You will need to have the flexibility to fly into one of two airports, but we just saved hundreds booking through them on a recent business trip!
In some instances, look at purchasing two one-way tickets as opposed to a round trip ticket to cut costs. This may work well for flights within the 14 day advanced purchase window.
To know the best days to fly, head to Priceline's Best Days to Fly Calendar. It's color-coded and lists out good and best days in terms of travel discounts. If you can be flexible, the deals will be yours.
Follow different airlines on Twitter and Facebook to find out about limited-time fare sales. For example, Jet Blue tweets out low, last-minute fares from @JetBlueCheeps every Tuesday, and Virgin America and Spirit Airlines also share fare alerts on Twitter.
Save Money On Hotels/Stays
Book through Deal sites. There are the Groupons and Living Socials, but there are also great sites for beautiful high end hotels like Jetsetter and Sniqueaway that you can get amazing deals on.
Go after business hotels for weekend stays, and go after leisure hotels for weekdays to typically get the best rates.
Join and use rewards programs. Besides earning free rooms – you can get extra perks like free internet and snacks at the Kimpton Hotels for example.
Do your research. Check sites like Savings.com for deals before booking for promo codes and travel deals available.
Consider renting someones vacation home or a room in someones house on sites like VRBO.com.
Use Apps To Save On Travel 
Save Money On Food While Traveling
Book rooms with breakfast included or with dining credits. This can add up to big savings!
Look into hotels like Residence Inn, etc that will offer kitchenettes. That way you can cook some of your meals in your room, and save on eating out costs.
Check Tourism sites in the city you plan to travel too. Often they will have coupons available for restaurants in their area. If you like chain restaurants like California Pizza Kitchen, you can sign up for their emails ahead of time (but not more then 30 days) and get coupons.
Enjoy a Staycation
The NW is full of free or frugal things to do. Get a great deal on a local hotel through one of the deal sites, and act like a tourist in your own city to avoid flight and gas prices.
Lots of ways to visit museums for FREE, and even the zoo's for free to cheap.
Take advantage of the FREE Federal Parks Days & FREE State Park Days to visit the parks for a day, fee free!
Goldstar offers discount tickets to many local events throughout the NW.
Find a big list of Seattle Staycation Ideas here.
More Travel Ideas
Ask about repositioning cruises. These are cruises used to get a ship to the port it needs to be, and are just a one way trip (so you would need to arrange travel back). It usually happens about twice a year, and can save you significantly if you are up for the adventure. These trips will show up on sites like Travelzoo from time to time, but your best bet may be to call the liners directly and ask for info on them.
You can
send a tweet using the #HelpMeSave hashtag
and
tweet @ValpakCoupons and @Savings
. Let them know what you'd like to save money on for your trip (or anything else) and they will tweet and give you some ideas!
More Travel Savings Articles: